France: Stumbling Over The High Euro And Oil
After putting in a solid showing at the end of 2004, France's economy may be shifting into a lower gear.
French real gross domestic product rose by 0.8% in the fourth quarter, propelled by good gains in consumer spending, public outlays, exports, and capital investment. Within the euro zone, the French increase stood in sharp contrast to the declines in real GDP posted by Germany and Italy.
But early 2005 data show some slowing of momentum. Industrial production was up by only 0.2% in January over December as auto and energy production declined. The trade sector remained in the red, with a deficit of 931 million euros ($1.2 billion) in January. Then in February retail sales dropped 1.3%, giving back about a third of the 3.9% jump in January, when biannual store discounts brought out shoppers. And business confidence fell last month.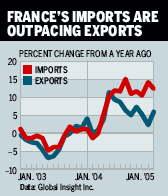 Amid such weak news, the Bank of France on Mar. 14 cut its first-quarter forecast for the second time in a month. The BOF now expects real GDP growth of 0.4%, down from 0.5% in February and 0.6% earlier.
What's behind the slowdown? Pricier oil, a strong euro, and slack labor markets are all big factors. Oil and the euro have had sizable impacts on the trade front. Because of higher prices, imports of energy products jumped 21.5% in 2004. The sharp deterioration in the trade of energy products accounted for three-fifths of the swing in France's trade balance, from a 1.58 billion euro surplus in 2003 to an 8.2 billion euro deficit for all of 2004. At the same time, the stronger euro is curtailing the growth in exports. Plus, weaker growth in Germany is hurting French sales of goods to its largest trading partner.
Domestically, consumer demand will be held back in the first half not just by higher fuel costs but also by a sluggish labor market. The jobless rate in January stayed at 9.7%, higher than the euro zone's average of 8.8%.
While no one is worried about a drastic slowdown in France, the loss of momentum makes it more likely that the European Central Bank will hold off on lifting interest rates. Policymakers want to see evidence of sustainable growth among the members of the euro zone. But the latest news on the French economy did not offer any such clues.
By James C. Cooper & Kathleen Madigan
Before it's here, it's on the Bloomberg Terminal.
LEARN MORE