Diomed Could Get A Boost From Medicare
By Gene G. Marcial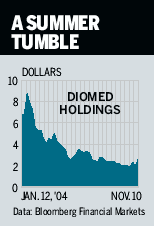 Diomed Holdings (DIO ), a small medical-device maker, is bound to become a big player in laser removal of varicose veins. So say some investors who bought shares as they fell from 4 in June to 2.59 now. The stock hit 9 in February but collapsed soon after venture capitalists took profits on shares they bought cheap as part of a private financing. Diomed's patented EndoVenous Laser Treatment has grown fast -- and should pick up with 2005's increased Medicare coverage, announced on Nov. 4, for removing varicose veins.
"Doctors will be reimbursed at $2,041 for the first vein and $437 for each additional one," says Paul Yook of Sedna Capital Management, which owns shares. Eric Sandler, of research boutique Sandler, who rates the stock a buy, has a 12-month target of 8. Diomed's Food & Drug Administration-approved procedure involves inserting a fiber-optic catheter into the faulty vein, which is then removed by laser. No anesthesia is needed. Diomed sells the laser system for $30,000, with a $300 procedure kit. It also collects a fee on each treatment. Yook figures Diomed will lose money this year and next -- but earn 60 cents a share in 2006 on sales of $42 million, vs. a forecast $25 million in 2005.
Note: Unless otherwise noted, neither the sources cited in Inside Wall Street nor their firms hold positions in the stocks under discussion. Similarly, they have no investment banking or other financial relationships with them.
See Gene on Fridays at 1:20 p.m. EST on CNNfn's The Money Gang.
Before it's here, it's on the Bloomberg Terminal.
LEARN MORE