U.S.: How Costly Oil Will Test The Economy
Consumer buying power will suffer, but the Fed has room to keep rates low
This economic recovery just can't seem to catch a break. It has been hit by one shock after another: the terrorist attacks in 2001, the corporate scandals in 2002, and war in Iraq in 2003. Now, it's the 2004 oil shock. Somewhat amazingly, the economy has managed to grow 3.5% annually since the recession ended in late-2001, and 4% during the past year. Clearly, that performance is a testament to the economy's resilience, especially since job growth has lagged so far behind the typical recovery experience.
But this year's oil shock is different. This isn't just a blow to the psyches of consumers, businesses, and investors. It's a direct hit to the pocketbooks of millions of U.S. households and companies. It results in a sizable chunk of national income getting transferred overseas, which then generates secondary impacts on demand, production, and prices.
Federal Reserve officials estimate that the buffeting from costlier oil has already knocked up to three-fourths of a percentage point from growth through the first three quarters of 2004. But now, after averaging $35 per barrel in the first quarter, $38 in the second, and $44 in the third, oil is hovering in the range of $50 to $55 per barrel.
The key to the outlook is where the price will go from here, and not even the sharpest oil analyst knows the answer. That uncertainty is another threat to growth, to the extent that fear of the unknown causes economic players, especially businesses and investors, to hesitate in their buying decisions.
SO FAR, THE ECONOMY'S RESILIENCE continues to shine through, as it has done throughout this recovery. Reaction to the oil shock remains mixed. Through early October, the prospect of costlier energy is dampening consumer confidence, but business surveys remain relatively upbeat. Investors are wary about oil's potential impact on future profits, yet policymakers at the Federal Reserve are not offering the slightest hint that they are concerned about any sudden weakening in the economy.
As with any shock, the economy's reaction will have to be gauged from economic report to economic report. The problem right now is that the upcoming October data may not offer much guidance. The latest surge in crude prices has come quickly -- some $12 per barrel in only two months -- and the full impact on overall demand is yet to come. Plus, several key indicators, such as payroll jobs and industrial production, are likely to post good gains for October, partly reflecting a bounceback from hurricane-depressed results in September.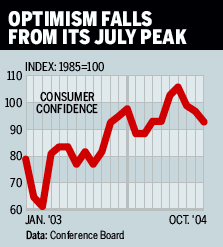 Indeed, the Labor Dept.'s state-by-state tally of employment, reported on Oct. 22, strongly suggests that hurricane-related effects in several Southern states hurt September payrolls. In a sampling of states hit hard by wind and flooding, including Florida, Alabama, Louisiana, and North Carolina, employment in each fell substantially from August, even though job growth during the previous three months had increased in each state. Other states in which the Federal Emergency Management Agency had designated disaster areas showed a similar pattern.
All totaled, economists generally agree that Labor's report of a 96,000 increase in September payrolls undercounted job growth by some 50,000 workers. That suggests October payrolls will be up by more than they would have been otherwise.
Any lagging effects of $50-$55 oil are not likely to show up until the November reports at the earliest, which won't be out until December. Sales of both new and existing homes posted surprising gains in September, up 3.5% and 3.1%, respectively. And consumer spending, outside of autos, appears to be holding up in October. Wal-Mart Stores Inc. (WMT ) has affirmed its expectation that sales in the month will rise in the 2% to 4% range, better than the September showing. But, as in the second quarter, when growth in consumer spending slowed to a paltry 1.6% pace, households are bound to suffer a loss of buying power in coming months as the price indexes jump.
WHAT'S CLEAR RIGHT NOW is that consumers are losing faith in their prospects. In addition to costlier energy, other worries about jobs, increasing violence in Iraq, a weak stock market, and a divisive election are weighing on household attitudes. Consumer confidence in October fell for the third month, according to the Conference Board's gauge. The index dipped almost four points, to 92.8, dragged down primarily by a weaker assessment of future conditions. Households' assessment of present conditions dropped only slightly.
Interestingly, consumers said they were a tad more upbeat about current employment conditions. More households characterized jobs as "plentiful" than in September, and fewer said jobs were "hard to get." That response supports the notion that September job growth was depressed by severe weather.
Meanwhile, most surveys show that Corporate America is still upbeat. In particular, new orders for capital goods, excluding aircraft, rose 2.6% in September, the strongest showing in six months. Orders for computers and related products posted an especially strong 9.3% advance, the largest gain in more than four years. Bookings for new equipment are a good indicator of business confidence, since they represent hard financial commitments to future activity, and through September they remain in a clear upward trend.
GAUGING THE DEPTH of the oil shock on consumers and businesses will be uppermost in the minds of Fed officials in coming months. Rising oil prices will not deter another quarter-point hike in the Fed's target interest rate to 2% at its Nov. 10 meeting. The question is, will the policymakers take a break at its Dec. 14 meeting from this year's steady pace of tightening?
In a recent speech, Fed Governor Ben S. Bernanke made it clear that policy "will not be closely linked to the behavior of oil prices per se" but on how the data on inflation and growth play out. That strategy may well give the Fed room to hike again in December.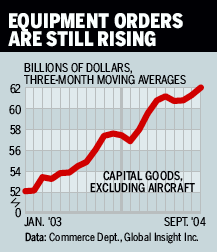 What is different this time, compared with past oil shocks, is that the Fed has an unusual amount of flexibility. For one thing, even if the target rate rises to 2.25%, the rate is still only slightly above inflation, as measured by the Fed's preferred indicator. That means policy is still accommodative to growth at a time when the economy may need that support.
Therefore, it would likely take a considerable weakening in the economy to cause the Fed to halt its tightening cycle. And even then, already low interest rates would pose less of a problem for inflation than in the past. Unlike past oil shocks, higher oil prices do not appear to be raising expectations of higher inflation. As Bernanke suggested, the Fed may even have the leeway to lower rates, if necessary.
To be sure, how the economy comes through the winter months will provide the ultimate test of this so far Teflon recovery. Nothing has stuck to it long enough to do any permanent damage. So until spring, keep a close eye on the data -- and your fingers crossed.
By James C. Cooper & Kathleen Madigan
Before it's here, it's on the Bloomberg Terminal.
LEARN MORE