U.S.: Will The Latest Oil Shock Bring A Barrel Of Woe?
Corporate America's response to weaker demand will determine the damage
Remember the Soft Patch? That's how Federal Reserve Chairman Alan Greenspan referred to the consumer-led slowdown in the second quarter. The good news is the ground under the economy firmed up nicely during the third quarter, led by a strong rebound in household spending. The bad news: With oil at $55 per barrel, the record first hit on Oct. 15, get ready for Soft Patch II, playing at locations across the nation this winter.
As in the second quarter, consumers will have prominent roles in the sequel. Their spending will get pinched again in the fourth and first quarters, thanks to the double whammy of higher gasoline prices and home-heating costs. Gas jumped to $2.04 per gallon in mid-October, only 2 cents shy of the May peak.
Global growth also is showing the impact of the oil shock. On the plus side, barring any major new supply disruptions, slower global growth -- especially in China -- seems likely to relieve some of the upward pressure on prices this winter. But until that occurs, the slowdown overseas is curbing demand for U.S. goods. Slower export growth and the impact of pricier petroleum on imports are widening the trade gap, creating another subtraction on overall economic growth.
These drags from $55 oil will work to reverse the momentum so evident over the summer. Economists, on average, expect the Commerce Dept.'s Oct. 29 report on real gross domestic product to show the economy grew at a robust annual rate of 4.2% last quarter. But forecasters have been revising their numbers for this quarter's growth downward. The latest Blue Chip Economic Indicators survey has an average fourth-quarter forecast of 3.7%, down from a 4.1% clip projected in July.
Bear in mind that the economy is in no danger of stalling out -- or worse. Many key economic indicators appear to have begun the fourth quarter at a high level compared with their third-quarter averages, including retail sales, which jumped in September.
Moreover, several production-related data would be stronger if not for September's hurricanes. The Fed noted the weather's impact when it reported a slim 0.1% rise in industrial output last month. And despite a 6% drop in September housing starts, new building permits rose slightly. All this means the numbers on payrolls, production, and housing are set to rebound in October.
THE CRUCIAL QUESTION is whether the current real GDP forecasts, already down from July, may be revised even lower. The answer depends greatly on the response of Corporate America. Companies, flush with cash and in excellent financial condition, weathered the first soft patch well. They maintained a solid pace of capital spending and inventory growth. They even continued to hire, although at a reduced pace. The business sector's spring performance is what made the second quarter unfortunate for the recovery, but hardly worrisome.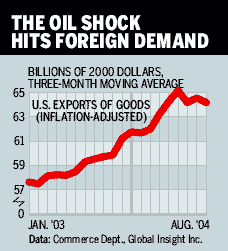 This time, though, the headwinds will be stronger. No CEO expected to be dealing with the implications of $55 oil right now. On top of the uncertainties surrounding the Presidential election, Iraq, and future demand, oil at current prices is bound to change the calculus of spending decisions at a time when profits are slowing and costs are rising.
The two areas to look for signs that oil is landing a blow: capital spending and hiring. And so far the business community seems to be rolling with the punches. Morgan Stanley's monthly survey of its industry analysts in early October shows that among the companies they canvass, more businesses are hiring in October, and that more plan to hire over the next three months than in September. The survey also reports a slight increase in the number of companies who plan to hike their capital spending. Other data, such as orders for capital goods and first-time jobless claims, support these findings.
HOWEVER, A MAJOR DRIVER of future business decisions will be the trend in demand. Here is where oil will have significant impact. In the third quarter, households bounced back from the spring spike in gas prices. September retail sales jumped by 1.5%, thanks to strong car buying. Even excluding vehicles, sales were up 0.6%. The worry is that such solid increases will be hard to repeat this quarter and next.
Real household income is growing only about 2% this year. Job growth has to speed up to well above 150,000 a month to lift wage and salary growth to a rate strong enough to sustain a healthy 3%-to-3.5% pace of consumer spending. And it's not clear job gains will reach that pace. Already, measures of consumer sentiment sagged in early October because of worries about jobs and oil.
In addition, economies worldwide have had to cut back on other spending to pay for costlier energy. As a result, weaker global demand is dragging down U.S. exports at a time when a weaker dollar and U.S. productivity gains should be making American-made products more attractive overseas.
Instead, exports are the main vulnerability in the trade outlook. Since May, when energy prices began to soar, the dollar value of exports has flattened out. The level is in sharp contrast with the 17.3% gain of the previous year. The slowdown is evident across most regions, especially in the emerging economies of Asia.
After adjusting for price changes, goods exports in August were up 10.8% from a year ago. That's down from May's 13.9% clip and it's below the 14.9% gain in imports over the past year. Worse still, further weakening looks likely. The Institute for Supply Management's survey of purchasing managers found fewer companies reporting gains in export orders in September, the sixth monthly drop in a row. The reading was the weakest in 17 months.
AT THE SAME TIME, the high price of oil coupled with strong demand here for materials and capital goods has pushed up U.S. imports. In August a one-time payment for Olympic broadcasting rights also added to the 2.5% gain in imports while exports were basically unchanged. As a result, the trade balance widened sharply to $54 billion, from $50.5 billion in July.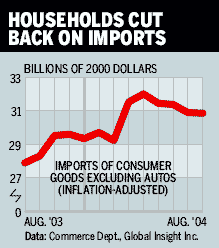 It's important, however, to note that oil cuts two ways on imports. Yes, it's boosting the nation's total overseas bill. But since American consumers are devoting more of their budgets to energy, they are spending less on other goods, and that includes imports. From May to August, the price-adjusted imports of nonauto consumer goods fell by 3.6%. Consumer-goods imports have not fallen for four months in a row since 1995.
At the Fed, oil is starting to command increased attention. In a speech on oil and the economy on Oct. 15, Greenspan said that costlier imported oil had already shaved about 3/4 of a percentage point from U.S. growth so far this year, adding, "the risk of more serious negative consequences would intensify if oil prices moved materially higher." He went on to say such a move seemed unlikely, although the world will have "to live with the uncertainties of the oil markets for some time to come." For now, it appears that this most recent oil slick has caused the economy to lose some of its footing.
By James C. Cooper & Kathleen Madigan
Before it's here, it's on the Bloomberg Terminal.
LEARN MORE