MFC Bancorp Thrives As The Recovery Spreads
By Gene G. Marcial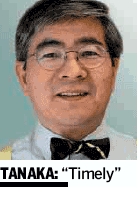 For a merchant bank in Vienna with no Street backing, MFC Bancorp (MXBIF ) counts some big shareholders: Peter Kellogg of Spear, Leeds & Kellogg, with 24%; Peter Lynch of Fidelity Investments, with 6.7%; and Graham Tanaka of Tanaka Capital Management, with 5%. MFC's stock soared from 8 in July to 18.70 on Jan. 14, but Tanaka still calls it a "timely, savvy bet on the global recovery." (His TANAKA Growth Fund (TGFRX ) gained 65% in 2003, vs. 22.7% for the Standard & Poor's 500-stock index.)
MFC invests worldwide in companies with undervalued assets and funds their restructuring to unlock their value. MFC also provides institutions with customized financial services. MFC stays as long as necessary, before bailing out -- usually with big capital returns. On Dec. 31, it sold half of its cobalt-refining investment in Uganda, netting it free cash flow of $13 million. Tanaka says it could pay it out as a $1 dividend. In the first nine months of 2003, MFC revenues jumped to $209 million, up from $100 million a year ago, helped by acquisitions, commodity trading, and a strong euro.
Profits in the same period climbed to $19.3 million, or $1.44 a share, up from $13.8 million, or $1.03. For all of 2003, Tanaka expects earnings of $2.50 a share in 2003 and $2.80 in 2004, vs. $2.35 in 2002. In 12 months, Tanaka sees the stock at 30.
Note: Unless otherwise noted, neither the sources cited in Inside Wall Street nor their firms hold positions in the stocks under discussion. Similarly, they have no investment banking or other financial relationships with them.
See Gene on Fridays at 1:20 p.m. EST on CNNfn's The Money Gang.
Before it's here, it's on the Bloomberg Terminal.
LEARN MORE