How to Make a Mint
First, ignore market research, says the 20-year-old founder of Hint Mint, already a big hit 18 months after its first shipment
Harley Cross broke pretty much every rule in the book that, if it were written, would be called How Not to Start a Business. He had very little business experience and no formal business education. When he needed help, he brought in a longtime friend who also had little experience in business.
He ignored research that showed the market for his product was saturated. As a teenager, maybe he was too young to know better.
Today, 18 months after shipping his first order of smooth round peppermints encased in arty tins, Cross says Hint Mint has racked up sales of more than $2.5 million.
"COOL."
Now 20, Cross has acted in TV shows and movies (Touched by an Angel, To Dance with the White Dog, A Soldier's Daughter Never Cries) since he was 5. When he came up with Hint Mint, he never intended to sell mints -- just the name. "I thought somebody could make a really cool ad campaign around the name," he says.
Cross found out names can't be trademarked if there's no product to go with them. So he decided to go ahead and create the product -- "mint as fashion accessory." As someone who grew up in show business, he knew that "if it looks cool, you want it."
He had the name, he had the concept, but what about product development and, ahem, all the cold calling it would take to put the product in front of potential customers? Enter longtime friend Cooper Bates, 38, a screenwriter and short-film director.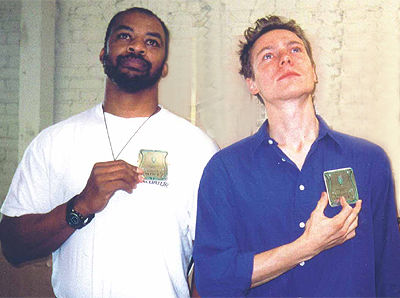 Sweet Success: Bates and Cross with their hot mints
WANT TO MAKE A MINT?
It was Cross who, after months and months of looking, hit upon the sleek, silvery container for Hint Mints after seeing an antique curved cigarette tin at a friend's gallery in Chicago. It was Bates who found a manufacturer that could make a similar tin for Hint Mint.
Now, who would make the mints? Operating out of their office -- the kitchen of Bates's one-bedroom apartment in Los Angeles -- Cross made a lot of calls to other mint companies and started asking questions about their manufacturing processes. And they answered him. "Why wouldn't they tell me? I was just a kid asking questions." He eventually found a manufacturer for the mints, which contain no gelatin (so they're kosher and vegan) and no artificial sweetener.
Cross and Bates forged ahead despite advice from Sandra Bates, Cooper's wife, who studied economic development in graduate school. Her research showed the mint market was saturated. Gut instinct told Cross otherwise. "I said: 'No it's not, because nobody is doing this.'" He told her, "Just tell me how much tins cost and how much mints cost. If you give me that, then I'll sell some mints."
Which brings us, in "How Not to Start a Business," to the chapter titled "Now Who Will Buy the Mints?"
PITCHING THE BIG GUYS.
Gina Casella, for one. Casella is product-development manager for Barnes & Noble cafes, where the $2.39 tin of Hint Mints can be found next to treats made by the likes of Godiva and Starbucks. "When we tested it, everyone liked this product," Casella says, adding, "It's very unique packaging...it makes a statement when you pull out the tin."
She wasn't concerned that Hint Mints -- and Cross and Bates -- had no track record. "The product speaks for itself. They might not go by the book, but they're young, they have a lot of energy, and they aren't afraid to come to the big guys."
Big guys like Bloomingdale's. There, you don't just walk in with your sample case and get an appointment with a buyer. Unless you're Bates. He got the name of the specialty foods buyer from a counterpart at Godiva. "But you'll never get her to the phone," he told Bates.
Shortly afterward, Bates was in Bloomingdale's and called her on his cell phone. "I told her: 'I'm like a kid at Christmas walking around in your store and I think our product would fit right in.'" She said to make an appointment. Bates countered, "I'm right here, so why don't we seize the moment and I'll show you what we've got?" She agreed to hear his pitch, and a decision is pending.
TURNING HEADS.
Bates "is genuinely interested in people, so they remember him and they respond well to him," says Cross. In fact, he cares so much that sometimes he has trouble sticking to the price. Adds Cross: "That's when I get on the phone."
In keeping with their concept -- mint as fashion accessory -- they have started a limited-edition (250,000), signed artist series of tins, debuting this month. The first is by Doug Rogers, a friend of Bates's who was art director for the movie Shrek. Subsequent artists most likely will be lesser known.
The series is part of their effort to keep turning heads -- and to encourage tin-collecting. "We knew we had no money for advertising," recalls Cross. There's also no money to pay the artists, who are invited on the company's Web site to submit their designs. In return, the chosen artists would reap whatever rewards come with having their name and work on a quarter-million mint tins.
STAYING SELECTIVE.
The key to success, Cross says, is staying apart from the pack. "I was offered every Kmart in Texas and I turned it down." What would Martha Stewart say? "She would say I'm a fool. But you can't go from low to high. You can't go from 7-Eleven to Bloomingdale's," he says.
That was Altoid's mistake, he says. They paved the way for a hip mint and had a big ad campaign, but they were too ubiquitous. "They created a market that was upscale, but then they abandoned it by selling to everybody." Hint Mint is at boutique stores on the West Coast, as well as in national chains such as Trader Joe's and Whole Foods.
Cross, who ended up putting everything he had saved from his 15-year acting career -- roughly half a million dollars -- into Hint Mint, says the company is profitable. He expects to recoup his money by the end of the year. He figures he'll sell the company for $15 million to $20 million in about two years, when he expects to have annual revenue of $6 million. If it's so successful, why sell it?
"It's interesting for only so long," says Cross. "What's fun about it is setting up the idea, coming up with the designs," not all the mundane chores that come with overseeing the production, sale, and shipment of mints -- as well as overseeing four office employees and 40 packers.
"LIVIN' LARGE.
Bates would like to retain a 10% interest in the company so he can do what he loves: travel, read and make films. For now, he has put his career as writer and director on hold. Why the sacrifice for Hint Mint? "Because Harley really believed in it and he needed the help," says Bates, adding: "And he gave me 30% of the company."
There are times when even Cross marvels at the "Mickey Mouse nature" of their start-up. After outgrowing the kitchen in Bates's apartment, they bought him a house so Hint Mint could have bigger offices, which are now in his garage. "We're livin' large," Cross says with a laugh.
And if the fickle world of fashion turns against Hint Mint? When he started out, Cross says, he thought that if all else failed, the investment would be his tuition at business school. "I figured, at least I'll know something about manufacturing and how it works and what not to do." It's unlikely he'll attend a more conventional business school.
"A lot of professionals don't know how to think," Cross says. "I don't mean that in a facetious or pretentious way. When people are taught to follow certain procedures, they follow procedures. They're not looking at it logically -- they are using what they've been taught by very bright guys." Bright guys who probably never realized that a mint could make a statement.
By Theresa Forsman in New York
Before it's here, it's on the Bloomberg Terminal.
LEARN MORE