The Heart of an Ethical Dilemma
Before devices like the implanted cardiac pump now keeping a terminally ill man alive become commonplace, a host of serious questions need answers
By Alan Hall
Some ideas just refuse to die. At the top of the list is the dream of extending the life of a patient with a failing heart by using a totally implanted mechanical pump to replace that most mystical of human organs. But a nagging question among doctors and ethicists remains: Is this quest medical overkill?
After a hiatus of more than a decade, the Food & Drug Administration recently granted five medical centers permission to replace the hearts of terminally ill patients with grapefruit-size devices developed by Abiomed Inc. The first subject -- a patient in his late 50s who wasn't eligible for a heart transplant and probably had less than 30 days to live -- had the artificial heart, known as AbioCor, implanted in his chest on July 2 at Jewish Hospital in Louisville, Ky.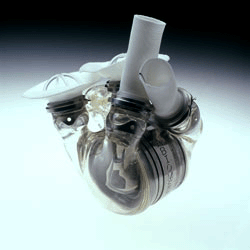 High-Tech Ticker: The AbioCor artificial heart, developed by Abiomed of Danvers, Mass., is the size of a grapefruit and weights about two pounds
Credit: AbioMed
Two decades after a 61-year old dentist from Seattle named Barney Clark received the first artificial heart, a new medical procedure is getting the full media treatment. Once again, a major hospital is trumpeting to an eager press every movement, complication, breath, and mechanical heartbeat of a terminally ill human. The new life expectancy of the patient, whose name is being withheld, will be doubled to 60 days, the doctors hope.
FAILURES.
"Every patient in this trial will probably die on the AbioCor heart," says David M. Lederman, president of the Danvers (Mass.) medical-device manufacturer. "We need to understand that, with this new technology, we may have failures."
That was also true, of course, back in 1982, when surgeons implanted an artificial heart called the Jarvik-7 into Clark's chest. He survived for a miserable 112 days, tethered to a contraption the size of a washing machine that sent pulses of air to a pump through hoses that penetrated his chest. His suffering included kidney failure, depression, strokes, respiratory failure, and mental disorders.
The record for being sustained by an artificial heart is held by William Schroeder, who was hooked to a Jarvik-7 in 1985. He "lived" for 18 months -- but like Clark, his waning days were marked by strokes, sudden hemorrhages, and infections.
The FDA -- and a mortified public -- soon had enough. The agency pulled the plug on further experiments in 1990. The New York Times deemed the device "the Dracula of medical technology." Robert K. Jarvik, who had developed the Jarvik-7 at the University of Utah, retreated from public view after conceding that quality of life was at least as important as quantity.
NEW APPROACH.
But while research slowed, it didn't stop. After the disastrous experiments in the '80s, researchers turned instead to developing pumps that could boost a failing heart -- either by allowing it to rest and recover, or sustaining a patient until a transplant could be obtained. These pumps, known as ventricular assist devices, leave the ailing heart in place but can take over 80% of the heart's pumping capacity.
By the end of the '80s, about 70 Jarvik devices had been implanted to sustain patients waiting for transplants. Today, VADs made by Thoratec, Thermo Cardiosystems, Medquest, Baxter Novacor, Abiomed, and others have assisted nearly 5,000 sick hearts.
Still, proponents of developing mechanical heart pumps argue that heart transplants aren't the answer. The number of available hearts can't come close to matching demand. The National Institutes of Health estimate that, each year, about 100,000 patients could be candidates for transplants -- yet only some 2,000 get new hearts. "There is a vastly larger number of potential patients who could benefit," says surgeon Robert D. Dowling of the University of Louisville, who performed the seven-hour surgery at Jewish Hospital with Laman A. Gray.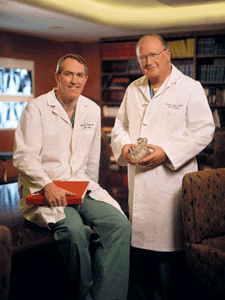 Gray and Dowling: The Jewish Hospital team led by these University of Louisville surgeons successfully implanted a mechanical heart on July 2
Credit: University of Louisville
Moreover, the number of people suffering from heart failure is growing as baby boomers age. The incidence of congestive heart failure, in which the muscle becomes too weak to pump a life-sustaining amount of blood through the body, has doubled since 1980. Also, automotive airbags, seat belts, and mandatory motorcycle helmets have reduced the number of potential organ donors.
BATTERY POWER.
Dowling and his colleagues believe that too much was learned from the experiments of the 1980s to consider them tragic mistakes. And the National Heart, Lung & Blood Institute apparently agrees. It has pumped about $150 million into VAD research, and another $150 million into artificial-heart development. Abiomed says its work on the AbioCor heart has been supported by the NHLBI since 1988.
Indeed, the AbioCor heart is a technological leap from the clunky Jarvik-7. The two-pound titanium and plastic sphere takes advantage of miniaturized motor and computer-control technology that didn't exist two decades ago. It's completely enclosed in the chest cavity, so there are no longer wires or tubes connecting the patient to outside power sources that could provide entry to infections.
Instead, the AbioCor gets its power from an internal battery that can be recharged through the skin from a power pack worn around the waist like a belt. And the internal battery will keep the heart pumping for 30 minutes without external power -- plenty of time to take a shower. In addition, its rate can be varied -- like a living heart's -- with demand adjusted by microprocessors.
Meanwhile, Robert Jarvik, who is now at the Texas Heart Institute in Houston, is still at work -- but not talking to the press. This time, he's working on a tiny device called the Jarvik 2000. His new approach is a pump, about the size of a "C" battery, that works like a small turbine to push blood into the failing heart and oxygenated blood out through the arteries. So far, the 2000 has been implanted in several patients awaiting transplants. Michael DeBakey, chancellor emeritus at the Baylor College of Medicine in Houston, who pioneered heart bypass surgery, is testing a similar pump.
CHOICES.
Other heart replacements and assistants are under development. Cardiac surgeons hope they'll one day be offered a variety of choices: short-term pumps that can compensate for postsurgical heart failure as well as shore up those awaiting transplants, pumps that can take over heart function for a number of months, and, finally, a permanent substitute for a failed heart.
What's the price? The issue of the medical bills incurred by a few hundred thousand graying yuppies wandering around with artificial hearts pumping in their breasts has yet to be addressed. These days, VADs used as bridges to transplants go for something on the order of $50,000 -- not installed. Overall, they double the cost of surgery from $250,000 to about $500,000.
While Abiomed isn't putting price tags on the AbioCor yet, speculation is that initial costs of the device will be on the order of $75,000 to $100,000. That's about the cost of a bypass surgery. The company says, in volume production, costs could fall to the order of $10,000. In a society unable to provide basic health insurance for all, the cost raises ethical concerns. Medical ethicist David Steinberg of the Lahey Clinic in Burlington, Mass., worries about the moral issues involved if "heart replacement -- an intervention directly and visibly linked to who will live and who will die -- becomes available only to those who can afford it."
MAINTAINING A LIFESTYLE.
Regardless of whether charges can be made palatable to medical insurers, these high-tech pumps won't go anywhere unless patients can achieve a lifestyle approaching what they had with their biological hearts -- including an occasional game of golf or a paddle in the pool. "Without a life, 30 to 60 days more on this planet isn't worth the effort to buy the additional Tylenol," observes Anna Crull, an oil-industry consultant from Kerrville, Tex., who recently underwent bypass surgery at the Texas Heart Institute.
The jury is still out. In the '80s, Clark and Schroeder offered their last days to help determine how long the Grim Reaper could be held at bay. So, too, has an unidentified victim of heart failure in Louisville -- and the four more who will follow. "We must master walking before we learn to run," says Louisville surgeon Gray.
This new round of heroic human test subjects may come to be regarded as martyrs in another spectacle of med-tech folly. Then again, the researchers who persisted may prove that it's possible to build economical devices that not only preserve life but the quality of it as well. Then we'll add the heart to the list of now commonplace lifesaving devices, such as kidney dialysis units and cardiac pacemakers.
That, indeed, would be heartwarming. After all, in matters of the heart, hope springs eternal.
Hall covers science and technology for BusinessWeek Online
Edited by Douglas Harbrecht
Before it's here, it's on the Bloomberg Terminal.
LEARN MORE