Chris Shilakes
First Vice-President, Merrill Lynch & Co.
CATEGORY: Software
STOCK PICKS: BEA Systems (BEAS), Mercury Interactive (MERQ), i2 Technologies (ITWO)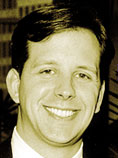 In a market rife with earnings blowups, Shilakes is backing three software companies that are leaders in high-growth niches. One of his favorites is BEA Systems Inc. (BEAS ), the top maker of so-called application servers--building blocks of corporate e-commerce systems. Shilakes says BEA has the chance to become "one of the next key platform providers in the software industry." He expects annual sales growth of 40% to 45% from this profitable software maker for the next five years, although that's down from 60% to 75% the past two years. BEA's stock price, 35 now, should rise to 40 within the year. The risk? With a price-earnings ratio of more than 100, "it carries a fairly high premium."
[an error occurred while processing this directive] Another Shilakes fave is Mercury Interactive Corp. (MERQ ) The Sunnyvale (Calif.) company is the leader in programs that monitor Web performance, boasting such customers as Citigroup (C ), Amazon.com (AMZN ), and Wal-Mart Stores (WMT ). Last year, Mercury had revenue of $307 million, a 64% increase over 1999. Shilakes says it will do well in tough times because the software helps cut product-development costs and is relatively inexpensive. Shilakes' price target for Mercury's stock, which is trading at 60, is 100.
Shilakes' final pick is the "gorilla" of the supply-chain software market, i2 Technologies Inc. (ITWO ) "Supply chain is a critical three- to five-year trend to any manufacturer," says Shilakes. This software helps companies link suppliers for faster turnaround and to keep inventories low. Shilakes predicts i2 will break even this fiscal year on $1.3 billion in revenues and earn $107 million on revenues of $1.6 billion in fiscal 2002. i2's stock is around 21 now. Shilakes has not come up with a new target since i2 surpassed the old one of 20.
Before it's here, it's on the Bloomberg Terminal.
LEARN MORE