Stealing A Wedge From Wisconsin
Don't feel bad if you have never heard of Tulare County, Calif. It's well hidden in the center of the state, 320 kilometers northeast of Los Angeles, or 45 minutes' drive from Bakersfield. Most Californians would be hard-pressed to pinpoint Tulare (Too-lair-ree) on a map. It's farm country, flat as a pancake, covered with cotton fields, citrus orchards, and vineyards. But this low-profile region has a national--if not international--distinction. Tulare is the top milk-producing county in the U.S. Seeking cheap land and a year-round temperate climate, dairymen have herded to Tulare over the past three decades. The county's 337,000 cows are a big reason why California was able to steal the title of top milk producer from Wisconsin, the Dairy State, eight years ago. Tulare's milk production, at over 3 billion kilograms last year, accounted for a little under 5% of the nation's total supply. That's more than 10 billion glasses to you and me.
As successful as it has been at making milk, however, Tulare has a big problem. It has more cows than jobs. Tulare's unemployment rate averaged about 16% in 2000. That is four times the national average, and up considerably from 11% in 1990. There are a couple of major reasons. Migrant farm workers don't migrate as much as they used to. Instead, they stay in Tulare and collect unemployment. Technology, too, has reduced farmers' labor needs.
Tulare's economic development officials think they have a solution: cheese. It takes 10 kilograms of milk to make a kilogram of cheese. Cheese consumption is growing in the U.S., while milk consumption has been relatively flat. Forty years ago, Americans ate about 3.6 kilograms of cheese per capita. Today, thanks to pizzas, nachos, and cheeseburgers, consumption is about 14 kilograms. There is no end to that cheese eating in sight. Cheese plants need workers and more milk from Tulare dairymen.
Within the cheese biz, the fastest-growing wedge is the specialty segment. These are high-end cheeses like Edam, Gouda, and Havarti that sell for about $14 a kilogram and up, vs. about $5 for commodities such as cheddar. Tulare is already a top producer of commodity cheeses; half the county's milk production goes to cheese. Kraft Foods Inc.'s Tulare facility, the largest cheese plant in the country, produces most of the Parmesan that fills those green containers sold at supermarkets everywhere.
TOUGH ALLY. County officials see a nice parallel with California's wine business. A few decades ago, Northern California was known mostly for its jug wines. Local vintners improved their product and began winning international awards. Eventually regions such as Napa and Sonoma became synonymous with good vino. Tulare wants to become the Napa Valley of cheese. "That's our goal," says Karin Ford, a director of the Tulare County Economic Development Corp.
The county has a tough ally in the California Milk Advisory Board. This 32-year-old, state-chartered entity takes a cut of the sale of every liter sold by California dairies. For the past six years, the board has focused on ripening the state's cheese image. The board's centerpiece is the hugely successful "It's the Cheese" campaign. The board spends around $20 million a year pushing local cheese. Cheese packages are marked with "It's the Cheese" labels. The board sponsors samplings at supermarkets and distributes millions of cheese coupons. Cheese billboards grace many California roads. A typical ad asks: "Why does Route 66 end in California?" Answer: "It's the Cheese."
READY-MADE TARGET. As cheesy as that sounds, the campaign has increased cheese sales in California supermarkets substantially. The varieties of cheese made in the state have increased from 70 to 160. California's cheese production doubled in the past decade. Thanks to the California Milk Advisory Board's encouragement, two-thirds of the leading restaurants in Northern California now offer a cheese course, up from just 10% five years ago. More than a dozen small cheesemakers have opened in the state in the past five years. Some California cheeses, like Winchester Cheese Co.'s superaged gouda, Cypress Grove Chevere's creamy Humboldt Fog, and Marshall's Farm's Wildflower Honeycomb, are getting international attention and winning plaudits in food magazines.
California cheese producers and the milk advisory board have a ready-made target in the state of Wisconsin. Because of the state's declining milk production, Wisconsin's cheese output was flat recently at around 1 billion kilograms. California, meanwhile, saw its cheese output rise more than 6% last year, to about three-quarters of a billion kilograms. That's well ahead of the growth rate for cheese nationally. A television commercial now running in California shows an animated cow on a sunny hillside having a nasty flashback to its youth, spent in a Wisconsin-like snowdrift. California cheese officials figure their state will top Wisconsin in cheese production within five years. "There is no question we will be No. 1," says recently retired California Milk Advisory Board chief Adri G. Boudewyn. "The question is what kind of cheese will we produce."
Of particular interest to the milk advisory board is a category called farmstead cheese. These are high-end cheeses made right on a dairy farm. The milk often goes straight from the cow (or goat) into the cheese-making vat. This is where Tulare County, with its wealth of dairy farms, hopes to shine.
Of course, it's easier to say cheese than it is to make it. William Boersma is perhaps Tulare County's best-known small cheese maker. Boersma, a fourth-generation dairyman of Dutch descent, began making cheese on his 65-hectare farm in the town of Visalia. Boersma uses only fresh whole milk that's hormone- and preservative-free to make his cheese. His creamy farmstead cheddars come in savory flavors like chipotle, sage, and garlic. "This is not a cheese you put on a sandwich," Boersma says. "It's a cheese you sit down with." Boersma sells his latest cheese--an original, Edam-like cheese called Queso de Oro--in about 60 specialty stores, mostly in Northern California. But five years into the venture, his Bravo Farms is due to gross just $150,000 last year. And he has yet to land a big supermarket order.
Still, Tulare County is having its best time ever when it comes to commodity cheeses. Land O'Lakes Inc., the big Minnesota-based dairy cooperative, just broke ground on a $145 million expansion of its Tulare facility. This joint venture with Japan's Mitsui & Co. will employ about 145 people and make mozzarella for sale around the world. Saputo Cheese, another big mozzarella maker, completed a Tulare expansion recently. Ruiz Foods, a Tulare maker of cheese-laden Mexican frozen dinners, is expanding, too. Cheese-factory suppliers such as U.S. Cold Storage and Wisconsin's Tosca, a maker of containers, also announced Tulare County expansions recently.
For its part, the city of Tulare's Chamber of Commerce has been keen to build a communally owned specialty cheese plant. For about a year, Director John Hobbs has been trying to round up investors for a $22 million plant, to be built locally, that would serve as a factory for a half-dozen small cheesemakers. "We've had a lot of interest," Hobbs says. "But so far no takers."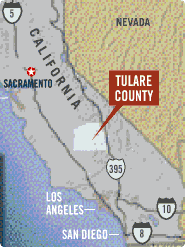 Besides Boersma, a handful of other local entrepreneurs have started small cheese companies in Tulare. Jody Graves sold his family's dairy-products company 10 years ago and has worked as a consultant in the years since. Last year he raised $2 million from local investors to form Sequoia Specialty Cheese Co. in the Tulare County town of Tipton. Sequoia has been making a creamy Baby Swiss cheese that uses whole milk and is aged in wax like higher-end cheeses. In January, Graves was set to open a new facility in a former cottage cheese plant. "I think the timing is right, given all the money the milk advisory board is spending marketing California cheese," says Graves.
Back at Bravo Farms, local dairyman Robert Hilarides has been leasing Boersma's equipment to launch Three Sisters Farmstead Cheese. His 20-year-old daughter, Marisa, runs the business, which sells a cheese the pair came up with on their own. It's a sharp, Parmesan-like variety that they call Sareanah, which sells for about $17 a kilogram. So far the cheese takes up just a dribble of the milk from the Hilarides' 1,800-cow herd. But Robert isn't discouraged. "People are eating a lot better," he says. "And they are willing to pay for it."
Before it's here, it's on the Bloomberg Terminal.
LEARN MORE