Britain: A Tricky Rate Cut Is In The Works
Britain's economy is slowing by more than was expected. But a move by the Bank of England to cut interest rates to lift growth may not be a smooth process.
British real gross domestic product increased just 0.3% in the fourth quarter from the third. That was the lowest quarterly growth rate in two years (chart), going back to when the world financial markets were in a liquidity squeeze. Real GDP grew 2.4% in 2000, compared with 3.2% in 1999. For now, real GDP is expected to grow 2.5% for 2001.
A slowdown would seem to make a rate cut by the BOE's Monetary Policy Committee a done deal. But while a cut still seems likely--perhaps as early as the Feb. 8 meeting--several factors complicate the future of British monetary policy.
First, the slowdown is uneven. Britain's industrial sector has been held down by declines in oil and gas extraction, and a drop in fourth-quarter output by the transit sector may have been distorted by a fatal train crash that disrupted rail service. The consumer sector continues to rise strongly, lifted by tight labor markets and very low inflation. The jobless rate has been at a 25-year low of 3.6% since August, and retail prices excluding mortgage interest fell to 2% in December. Also, confidence among consumers and businesses rose in the fourth quarter.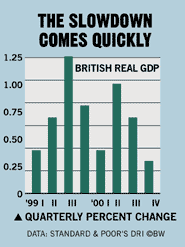 Second, monetary policy may soon be fighting fiscal stimulus. The March budget proposal is increasingly expected to contain tax cuts scheduled ahead of general elections expected in May.
Lastly, some members of the MPC want to avoid the appearance of following the Federal Reserve. The Fed has already cut U.S. rates twice in January by a total of one percentage point.
Appearances notwithstanding, the MPC may have little choice but to cut--and soon. The financial markets have already priced in a rate cut this quarter, and the pound has strengthened against the U.S. dollar as analysts grow worried that, even with British growth slowing, the MPC will not cut as much as the Fed.
Before it's here, it's on the Bloomberg Terminal.
LEARN MORE