Acacia May Have Growth In Its Genes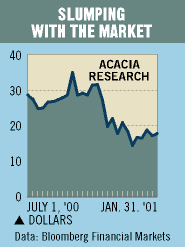 For a tiny biomedical outfit that has yet to make a penny, Acacia Research (ACRI) has attracted a string of big investors, including Vanguard Group, Barclays Bank, and Paramount Capital. Acacia controls and operates several life-sciences and technology companies. Sparking unusual interest in Acacia is one such holding: CombiMatrix, which has filed to go public in February. Since not many shares of the initial public offering will be available, many big investors have opted instead to buy Acacia, which owns 58% of CombiMatrix. The unit is developing a technology for rapid production of biological-array processors. These are semiconductor-based tools that identify genes, their mutations, and proteins. "These processors are designed to facilitate the analysis of raw genomic and proteomic data for use in the discovery and development of new drugs," says Lindsey Rosenwald, president of Paramount Capital. The very efficient processors, he says, will be a home run for CombiMatrix. Similarly, says Rosenwald, the IPO should be a "hot offering" because of the importance to genomics of CombiMatrix' product. Acacia stock is trading at 18.
Before it's here, it's on the Bloomberg Terminal.
LEARN MORE