Brazil: A Helping Hand Fires Up Growth
Brazil's outlook for 2001 got a lift from an unexpected source--the U.S. Federal Reserve. The Fed's Jan. 3 rate cut, coupled with low Brazilian inflation, gave Brazil's central bank the opportunity it needed to cut its overnight lending rate by a half-point on Jan. 17, on top of December's cut of three-quarters of a point.
Those cuts, with more expected as the Fed eases further, suggest that Brazil's economic growth this year will at least match last year's 4% pace. Growth in the third quarter of 2000 was the fastest in more than three years, and fourth-quarter growth appears to have been strong as well, suggesting solid momentum heading into 2001. Help in achieving the government's 4.5% growth target for this year will also come from fiscal policy, which is turning stimulative after the restrictive period in the wake of the 1999 currency crisis.
With inflation running at just under 6% in 2000, despite surging energy prices, and with the government's 4% inflation target for 2001 reachable, real interest rates remain very high, suggesting the need for further cuts. Energy accounted for more than one percentage point of last year's inflation.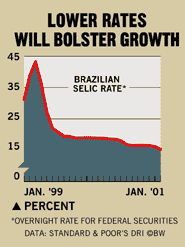 Interest rates are now the lowest since the real was introduced as Brazil's currency in 1994, a factor that brightens the outlook for domestic demand and heightens the chance that Brazil can further reduce its unemployment rate, which fell to 6.8% in November, approaching a three-year low. As inflation falls and labor markets improve, consumer buying power will continue to increase.
The chief risk in Brazil's outlook comes from the foreign sector. The trade balance, which was hit in 2000 by costlier imported energy and weak export prices for agriculture, is not expected to improve much in 2001, leaving a sizable external debt that will require substantial inflows of foreign capital. Although the new flexible currency will help absorb potential external shocks, the economy is especially vulnerable to a sharp slowing in U.S. growth and a shaky recovery in neighboring Argentina.
Before it's here, it's on the Bloomberg Terminal.
LEARN MORE