Take Two: The Games People Play
Interactive video games are hotter than ever amid buzz from Sony's PlayStation 2 and Microsoft's Xbox video players. "The interactive software game industry is growing faster than any other entertainment segment," says analyst Richard Zimmerman at securities firm Janney Montgomery Scott.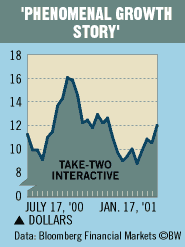 How to play this fervor? One "phenomenal growth story" is Take-Two Interactive Software (TTWO), a developer, publisher, and distributor of interactive software games for PCs, video-game consoles, and Palm-powered handhelds, says Wedbush Morgan Securities analyst Miguel Inbarren. Take-Two owns a "solid library of game content" that's "well positioned" for the new slate of consoles, he adds. Take-Two recently launched two very successful new games for PlayStation 2, Smuggler's Run and Midnight Club: Street Racing. They ranked fifth and sixth in overall industry sales during the holiday weeks, with combined sales of $20 million since their launch in October, says Take-Two President Paul Eibeler. Inbarren figures Take-Two will earn $1.40 a share on sales of $500 million this year, up from 88 cents on $387 million in sales in 2000. Take-Two's stock, now at 12, trades at a p-e of 10, vs. 25 among its peers. Inbarren rates the stock a "buy."
Before it's here, it's on the Bloomberg Terminal.
LEARN MORE