U.S.: Slowly But Surely, The Economy Is Cooling
Still, labor markets are probably tighter than the Fed wants
If you've been spending the better part of a Saturday morning waiting in a checkout line or searching for an elusive set of Powerpuff Girls bedsheets, you may wonder where the economic slowdown is. After all, if consumer demand is easing up, why can't you find a parking space at your local mall?
Although this holiday shopping season is shaping up to be at least moderately successful, make no mistake about it: The latest government data show the U.S. economy is cooling. Retail sales fell in November thanks to weak car sales, and companies continue to issue profit warnings for the fourth quarter and beyond because of slower revenue growth.
Most important, the November employment report, the month's first broad look at the economy, shows clear signs of a slowdown (chart). As expected, private-sector businesses hired fewer workers in November than they did the year before, the workweek shortened, and the jobless rate ticked up. But the persistent increase in hourly pay suggests that the demand for labor is still growing faster than the supply of available workers.
Keep in mind that a slowdown doesn't have to be abrupt, but a soft landing will feel different after a two-year boom. The economy does not appear to be headed for a hard landing. A survey of economists conducted by BUSINESS WEEK finds that forecasters, on average, expect the U.S. economy to grow 3.1% in 2001, and none of them expect an outright recession.
INDEED, THE WAGE ACCELERATION, evident in the November jobs data, indicates that the economy has not cooled enough to make the Federal Reserve rest easy about the inflation outlook. This is especially so given that productivity is expected to grow more slowly in the coming quarters and won't be able to offset labor costs as much as in the past.
Policymakers will meet on Dec. 19, and they are expected to hold the federal funds rate target at 6.5%. But the Fed will very likely shift its view of the near-term risks in the outlook--a change all but announced by Fed Chairman Alan Greenspan in a Dec. 5 speech. Instead of seeing an economy tilted toward rising inflation, the Fed may say that the economy's risks are now balanced between excessive price pressures and excessively slower growth. That is, while the danger of an overly weak economy has risen, continued tight job markets mean the inflation risk has not diminished.
A soft landing will mean adjustments, though. Auto makers already are cutting production schedules and putting workers on temporary layoffs as the Big Three adapt to an annual rate of vehicle sales in the 16 million-to-16.5 million range instead of the record 18 million earlier in 2000.
Tech companies, meanwhile, are beginning to accept that new orders don't always grow at yearly rates of 20% or 30%, as they did in 1999 and early 2000. In fact, tech orders from 1996 to 1998 had increased about 8% to 10% per year, but accelerated sharply in 1999 and early 2000, at least partly reflecting large outlays related to the Y2K phenomenon. It is important to note that orders have not fallen off a cliff; companies, after all, still need to invest in productivity-building equipment.
Consumers are also beginning to show some restraint, especially for big-ticket items. Retail sales dropped 0.4% in November, after no change in October. The weakness was concentrated in vehicle sales, which fell 2.2% in November. Excluding cars, store receipts rose 0.2% on top of a 0.4% advance in October. Sales at furniture stores were strong, reflecting the solid growth in the sales of new homes which need to be furnished.
Because of weak vehicle buying, retail sales in November were up just 5.2% from a year ago, half their yearly pace in early 2000 (chart). Nonauto sales haven't slowed as much, but they are softer than in the first half. How much consumer spending eases up in 2001 may depend on how weak the labor markets become.
SO FAR, EMPLOYMENT GAINS are only slowing, not turning negative. True, layoffs are occurring in pockets of manufacturing and the dot-com sector, but elsewhere companies are still hiring. In November, nonfarm jobs grew by 94,000, but a quirky-looking drop of 54,000 government jobs held back the total number. Private payrolls rose by 148,000, not much different from their 158,000 average for the first 10 months of 2000.
The November jobless rate did inch up to 4% from 3.9%, but the rate has been between 3.9% and 4.1% since October, 1999. Looking ahead, though, job growth is at a pace that, if maintained in 2001, would cause the unemployment rate to edge gradually higher. But job gains would have to slow sharply to loosen labor-market conditions significantly.
The recent rise in initial claims for unemployment benefits, to a four-week average of about 350,000 from about 300,000 during the summer, suggests at least some small degree of slack in the job markets. To put that figure into perspective, during the 1994-95 soft landing, claims averaged between 360,000 and 390,000 for several months. The 1990-91 recession sent claims up to the 500,000 mark.
Before businesses resort to layoffs, they typically cut the hours of their existing employees. And that's happening. In November, the average workweek for production and nonsupervisory workers stood at 34.3 hours, 18 minutes shorter than in April. In the factory sector alone, the workweek has dropped a full hour.
SO FAR, THOUGH, CONSUMERS don't seem too worried about labor market conditions. The latest decline in consumer confidence seems to be driven more by stock-market jitters and uncertainty over the Presidential election than by eroding job worries. In addition, the percentage of workers in November who are unemployed because they voluntarily left their last job remained well within the high range of the past two years. Last, the latest Manpower Inc. survey of hiring intentions shows no diminution of hiring plans in the first quarter, compared with a strong fourth quarter.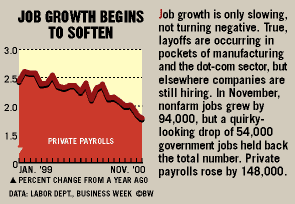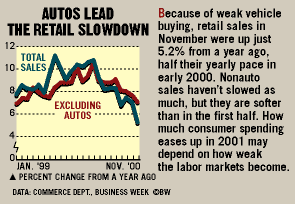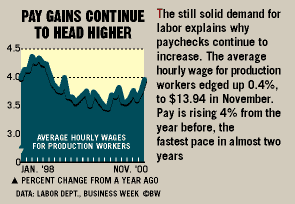 The still solid demand for labor explains why paychecks continue to increase. The average hourly wage for production workers increased 0.4%, to $13.94 in November. Pay is rising 4% from the year before, the fastest pace in almost two years (chart). What worries the Fed is that businesses might not be able to count on productivity gains to offset these rising costs. Companies will then face a tough choice of trying to raise prices while demand is slowing or seeing their profit margins--and stock price--erode.
The job market is on track to create about 2 million jobs in 2000, down from the 2.8 million added in 1999. And job growth is likely to be weaker in 2001, but that's to be expected in a soft landing. It's another case of growth being relative. The outlook does not call for a flurry of pink slips. Instead, expect companies simply to hire fewer new workers next year.
Before it's here, it's on the Bloomberg Terminal.
LEARN MORE