Technology is in a down cycle, so some bulls are going for tech stocks that have niche products and strong earnings growth. One such: Asyst Technologies (ASYT), a small-cap company that assists semiconductor big leaguers to produce low-cost but high-yielding chips.
Asyst's stock has been beaten down as much as other techs--from 43 in June to 12 1/4 on Dec. 13. Yet the "world's largest semiconductor fab [chip-making] automation company is growing faster than the industry," says Michael Kahn, an analyst at New York investment firm A.R. Schmeidler. Asyst's customers include Applied Materials, IBM, Motorola, Novellus Systems, Texas Instruments, Sony, and Taiwan Semiconductor Manufacturing.
Asyst helps fight contamination by creating ultraclean automation systems and environments in chipmakers' cleanrooms. Asyst's systems isolate semiconductor wafers, track them, and, with the aid of robotic gear, help chipmakers optimize output and boost yield. Asyst does well in tech down cycles because chip-equipment makers try even more to curb costs by upgrading their tools.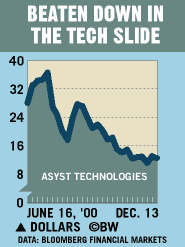 The upgrading of chip-making gear, such as converting from 8-in. wafers to the more productive 12-in. ones, is a growing business for Asyst. Outsourcing of Asyst's foundry services also has huge earnings potential. For the year ending Mar. 31, 2001, Kahn expects Asyst to earn $2 a share, on sales of $600 million, up from 38 cents on $225 million in fiscal 2000. In 2002, Kahn expects $2.50 on $750 million. He sees the stock zooming to 60 in 18 months.
Analyst Brent Hodges of Merrill Lynch, who rates Asyst a "long-term buy," says the company's recent acquisition of two precision-machining and assembly outfits enhances Asyst's strategy to provide more outsourcing.
Before it's here, it's on the Bloomberg Terminal.
LEARN MORE