Commentary: Can Schrempp Stop The Careening At Chrysler?
When Jurgen E. Schrempp made his bold deal to merge Daimler-Benz with Chrysler Corp. in 1998, all of Detroit buzzed with fears that overbearing Germans would march in and big-foot the American carmaker. Now, investors might wish they had.
The Germans have finally come to town. Three days after firing CEO James P. Holden on Nov. 17 and installing Daimler veteran Dieter Zetsche in his place, they then axed three Holden aides, including Theodor R. Cunningham, executive vice-president for global sales and marketing, and Kathleen M. Oswald, chief administrative officer. After suffering one disaster after another, Schrempp and his team perhaps gave U.S. managers too much free rein, even as problems careened out of control.
Now that they are in the driver's seat, will the Germans do better? The problems are enormous, and the German management may be seriously out of touch. A month ago, Schrempp vowed recovery would occur in the fourth quarter. Today, he concedes it could be a year away. Following Chrysler's $512 million loss in the third quarter, most analysts expect it to lose that much in the fourth quarter, too. This will drag down operating earnings for the first time since Schrempp restructured Daimler-Benz in 1995. This year, DaimlerChrysler net profits will probably drop 27%, to $4.5 billion, and in 2001 a further 18%, to $3.7 billion, says Rod Lache of Deutsche Banc Alex. Brown Inc. If Zetsche can't stem the troubles, Schrempp could be shown the door.
UGLY TRUTH. Even before the ink on the pink slips had dried, Schrempp and Zetsche sounded conciliatory at meetings with Chrysler managers and dealers. But they didn't deny the ugly truth. Chrysler minivans and SUVs face stiff competition, mostly from Japanese models such as Honda's Odyssey. Chrysler sales are falling despite huge incentives it is offering customers, as costs soar. Even more discouraging is the U.S. slowdown. And Chrysler is usually the first in Detroit to feel a downdraft. "Chrysler has always been the canary in the mine shaft," says researcher Sean McAlinden at the Center for Automotive Research in Ann Arbor, Mich.
The slowdown has already hit. Auto makers in the U.S. assemble 8.6 million minivans and light trucks a year. That capacity will grow nearly 20% over the next three years. But demand is starting to soften.
For now, Daimler has given vague signs of how it will restructure and reposition Chrysler. But Zetsche is expected to cut production and eliminate unsuccessful models. The big unknown is how deep the cuts will go. Chrysler has already pared its product-development funds from $48 billion to $36 billion. More staff cuts are expected.
Chrysler's 4,400 dealers aren't likely to be spared, either. Zetsche is expected to streamline the network--the same tactic he used to help turn Mercedes around in the mid-1990s. Although painful at the time, it paid off, as he weaned Mercedes clients off incentives. And Zetsche could get surprisingly little opposition. Dealers themselves say they realize the unwieldy network is part of the problem. "There are just too many domestic dealerships. We're competing with each other," says Herb Chambers, owner of Chambers Motorcars in Boston.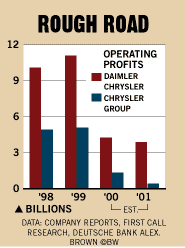 This sort of downsizing usually cheers up stockholders. But shares have slid another 15% since news of Holden's ouster broke. Altogether the stock has fallen 60% from a post-merger high, to 39. The company's market capitalization is now just $39 billion, about 20% less than Daimler-Benz sported before it bought Chrysler. But investors aren't likely to become believers again until solid signs of a recovery come in.
Schrempp doesn't bear the biggest share of blame for Chrysler's downward spiral, of course. But by waiting so long to install his own team, Schrempp lost a crucial opportunity to get a grip on Chrysler's woes. Now it falls squarely on him and his German lieutenants to fix the mess in a tougher, grimmer economic environment.
Before it's here, it's on the Bloomberg Terminal.
LEARN MORE