Amazon: Cheaper But Cheap Enough?
Despite its mounting losses, investors are tempted by the online giant's low stock price. Its investments, meanwhile, are a horror show
Here it is, the holiday shopping season again, and investors once more are as focused on Amazon.com (AMZN) as kids are on their wish lists. The difference this year is that it's harder to make a bearish case against the leading online retailer. Amazon in the last year has doubled its customer base and widened its gross margin. At the same time, its stock plunged right along with its Internet peers (chart). Buying into CEO Jeff Bezos's dream now is a lot cheaper than last year. But at $28 a share, is it cheap?
A close look at Amazon's most recent quarterly report tells me no. And it's not because the report betrays hints of slower retail sales or red flags about how efficiently Amazon can ship a gazillion Razor scooters. It doesn't. It's because the report details how Amazon has utterly failed to invest wisely on behalf of its shareholders.
Amazon's astounding net losses--its accumulated deficit since 1994 is $1.75 billion--are well known. So are its towering load of debt, $2.1 billion; its $487 million negative net worth; and its voracious appetite for cash: Through Sept. 30, operations ate $378 million, more than triple the cash used last year even though sales grew less than half as fast.
All that unpleasantness is routinely dismissed by Amazon boosters as the necessary pain investors must bear as Amazon makes itself into the world's biggest, most profitable retailer. What I can't blink past are the results of Amazon's attempts over the past year to build its business by investing in other e-tailers, such as living.com.
POOF! Only last February, Amazon gave living.com, a privately held online furniture and housewares retailer, $10 million in cash in return for preferred stock. It also picked up an additional $21 million in preferred stock in return for promoting living.com at Amazon.com. In the next seven months, as a big investor in living.com, Amazon had to record $16.9 million in red ink, its share of living.com's losses.
Now, here's what Amazon got for its trouble: Visitors to www.living.com today don't find links to sofas and towels but a long list of bankruptcy filings, statements, and schedules. Like many other of the bubble-addled among us, Amazon bought into living.com at the peak of Internet insanity, only to see its investment go poof! into Chapter 11.
Something very similar, only more costly, is happening now with Pets.com (IPET). Amazon last year put nearly $58 million into the online pet store, good for a 30% stake. On Nov. 7, Pets.com decided to liquidate, noting that despite its adviser Merrill Lynch's best efforts, "no party was prepared to provide capital or acquire the company. In fact, out of the more than 50 prospects contacted, fewer than eight were even prepared to visit with the company." With Pets.com shares now near 30 cents, Amazon's stake is worth under $3 million.
MISSING GROCERIES. Those weren't the only defeats. Yet more dismaying is how what looked like a victory is now a loss, too. On Sept. 5, when online grocery store Webvan Group (WBVN) issued stock to buy Amazon partner HomeGrocer.com (HOMG), Amazon was able to post a $40 million gain on a $44 million investment. But by Sept. 30, $15 million of that gain disappeared as Webvan's shares sank. By Nov. 15, with Webvan's stock off another 55%, Amazon's gain from its bet on the future of e-grocery shopping had turned into an unrealized loss I estimate at $13 million.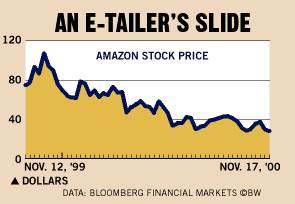 Bulls think the $384 million Amazon spent this year and last on fixed assets, such as nine new distribution centers in the U.S. and Europe, will eventually pay off big. Perhaps. But Amazon this year and last also put more than $400 million in other businesses, investments that are on Amazon's September balance sheet at $262 million. Their true market values today are very likely a lot less. "We made what we believed were appropriate investment decisions," an Amazon spokesman told me. "Hindsight is 20-20." Maybe Amazon plowed cash into its own operations more wisely. Then again, maybe that's just a holiday season wish.
Questions? Comments? Send an e-mail to barkerportfolio@businessweek.com or fax (321) 728-1711
Before it's here, it's on the Bloomberg Terminal.
LEARN MORE