Voting Machines Florida Would Love
Some pros think they have found what could be a timely "electoral balloting" play: Diebold (DBD), the largest maker of automated teller machines and electronic and physical security equipment. The bizarre turn of events in Florida has cast a bright light on Diebold's recent purchase of Brazil's Procom Industria Electronica, which makes simple, foolproof, and secure electronic voting machines--used by 100 million Brazilians during the local elections in October.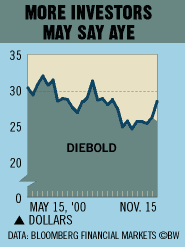 The Diebold voting machine, UE2000, has a numeric keypad and small liquid-crystal-display monitor. Tapping in a candidate's number, his or her digitized photo shows up on the monitor. The voter presses a green button to cast the vote. Each voter has an electronically registered number. About 20 private companies make electronic touch-screen voting devices. What's Diebold's plan for its machine? "We are looking into all options on how to market it in the U.S.," says spokesman Mike Jacobson. Diebold has yet to determine its selling price.
Shares of Diebold jumped from 26 to 30 on Nov. 13 when investors got a whiff of Diebold's voting machine. Matthew Wolfersberger of McDonald Investments raised his rating that day from a hold to a buy.
Before it's here, it's on the Bloomberg Terminal.
LEARN MORE