The Panic Has Subsided But Not The Debt
Despite an IMF bailout, slow growth may lead to a default
On Nov. 10, Argentine President Fernando de la Rua interrupted prime-time television programming to confess that "Argentina is in a bad way." For Argentines who have struggled through a two-year recession, that was not much of a news flash. The real surprise was learning that the higher-ups in Washington also think their country is in dire straits.
For weeks now, the markets have been abuzz with rumors that officials from the International Monetary Fund were quietly assembling an emergency package designed to avert a catastrophic Argentine debt default. De la Rua, in his speech, acknowledged as much. And a follow-up statement issued by IMF chief Horst W. Kohler made it clear that Argentina won't be left to struggle alone in its effort to raise the $19.5 billion it needs next year to make payments on its $123.5 billion public debt.
BREATHING ROOM. Details of the new deal are still being worked out, but it is likely to build on the $7.2 billion standby loan the IMF granted Argentina in March. The key difference is that most of the new money, which could total between $3 billion and $4 billion, will be available up front rather than in tranches. The World Bank and the InterAmerican Development Bank are also expected to kick in some cash. One thing is already certain: The stringent budget-deficit targets set by the IMF will be relaxed in order to provide Argentina's economy with some badly needed breathing room. "We can't ask for more fiscal tightening, because the economy is weak, and unemployment is going up," explains a senior IMF official.
It's now up to an 11-month-old de la Rua administration to prove to investors that it can engineer a recovery. Exports have shown some strength of late, but domestic consumption, traditionally the main driver of growth, is still depressed. Analysts say Economy Minister Jose Luis Machinea has six months--tops--to steer the economy toward the government's forecast of 2.5% growth next year (recently revised downward from 3.7%). Otherwise, he'll be out of a job.
Nonetheless, the IMF's show of support for Argentina already appears to be having a positive effect. The spread between Argentine bonds and comparable U.S. paper, a measure of country risk, has narrowed to slightly over 800 basis points after having broken through the psychological barrier of 1,000 basis points on Nov. 8. "It deflates the panic for a while," says Rita Lavin, senior economist at Standard & Poor's market analysis group in New York. But Lavin believes that the IMF deal will not erase doubts about Argentina. Indeed, on Nov. 13, S&P downgraded Argentina's foreign- and local-currency ratings one notch each, citing concerns over the fiscal deficit.
Such skepticism may prevent South America's biggest borrower from regaining access to international capital markets--at least at rates that it can endure. Analysts warn a default could still materialize in the first quarter of 2001, when $4.5 billion in Argentine debt comes due. "Situations involving a country as highly indebted as Argentina can unravel fast when growth is slow and slip-ups take place," says Amer Bisat, who manages a $3 billion emerging-market debt portfolio for Morgan Stanley Dean Witter.
And there are plenty of banana peels in de la Rua's path. In exchange for the IMF's strengthened commitment, the government has pledged a host of new reforms. They include a five-year spending freeze for provincial governments, privatization of the public pension system, and outsourcing of some tax collection. Yet the President's ability to win congressional approval for these measures has been jeopardized by his handling of a bribes-for-votes scandal in the Senate. The crisis has led to the resignation of the vice-president and threatens to split the governing coalition, known as the Alliance.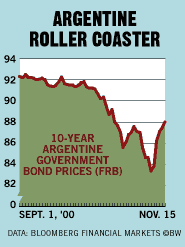 Despite de la Rua's promise that the new measures would "stop the rain," many investors seem disappointed. "It's more of the same orthodoxy that has repeatedly failed to revive the economy," says Geoffrey Dennis, Latin American equity strategist for Salomon Smith Barney in New York. Indeed, several analysts on Wall Street have now joined the chorus of Argentine industries clamoring for supply-side solutions, such as a big cut in the 21% value-added tax.
How long the market will continue to give Argentina the benefit of the doubt is anyone's guess. Meanwhile, de la Rua faces the thankless task of convincing Argentina's consumers that good times are around the bend, so they will begin spending again. Doing so will require a lot more than a few prime-time television appearances, though.
Before it's here, it's on the Bloomberg Terminal.
LEARN MORE