Can Home Depot Get Its House In Order?
As home remodeling slows, investors fret the hardware giant will hit the wall
When Bernard Marcus co-founded Home Depot (HD) in the late 1970s, he was so obsessed with creating an authentic warehouse feel that on the morning his first store opened, he raced through the aisles on a forklift--slamming the brakes at every turn--to make sure the floor had visible skid marks.
Since then, Home Depot Inc. has gone on to dominate the home improvement business, with sales last year of $38.4 billion. But now--after years of 30% to 40% annual earnings gains--Marcus and co-founder Arthur M. Blank are dealing with a different kind of skid. After stunning Wall Street last month with its first profit warning in five years, Home Depot on Nov. 14 registered a disappointing 13% increase in fiscal third-quarter earnings--barely half the 25% growth that analysts were earlier banking on. With the fourth quarter looking just as dicey, Deutsche Bank (DTBKY) Alex. Brown analyst Dan R. Wewer expects net income to grow just 17%, to $2.7 billion this year, on sales of $46.3 billion. Next year, when the company expects same-store sales growth to slide to 4%, down from 10% last year, doesn't look much better. Investors, fearing that Depot has hit the wall, have slashed the stock to around 40, or 42% below the peak of last March.
What's behind the woes at the Atlanta-based hardware store giant? The company maintains that the current slowdown reflects the industrywide collapse in prices for lumber and other building materials as well as tough comparisons to 1999, when sales were aided by Y2K stockpiling. Blank, who succeeded Marcus as CEO three years ago, assured analysts in October that "we remain committed to our goal of 23% to 25% earnings-per-share growth for fiscal 2001."
BASIC INSTINCT. How? For one, Blank plans to squeeze out weaker competitors--just as he did with Hechingers and Builders Square in the 1990s. Betting that lumber yards, supply houses, and other rivals are cutting costs and perhaps service to weather the collapse in prices, Blank intends to go full bore with a spate of initiatives. "Whenever there's been this kind of slowdown, we've turned back to our basic kind of nature, which is to be piranhas," Blank told investors on Nov. 14. "We'll be very aggressive in the marketplace to gain as much share as we can."
But some industry experts believe Home Depot's third-quarter woes reflect a more fundamental problem: a slowing economy and a decline in home sales and home remodeling, the company's lifeblood. After four record years, sales of existing homes are expected to fall by 3.1% this year and another 0.5% in 2001, according to the National Association of Realtors. New home sales and remodeling are heading the same direction. "As remodeling slows, [Home Depot is] going to see some slowing growth of sales unless they pick up market share from other retailers," says Kermit Baker, an economist with Harvard University's Joint Center for Housing Studies.
Home Depot's profit warning has also caused some analysts to question how much more mileage the company can get from its orange warehouse stores--which are already facing heightened competition from rival Lowe's Companies Inc. (LOW) Marcus and Blank declined requests for interviews, but investor relations head Robert M. Burton insists that the chain can boost the number of stores from 1,060 to 2,300 in the next four years, thanks to expansion in the U.S., Canada, Puerto Rico, Chile, and Argentina. Some analysts, though, believe saturation in the U.S. will be an issue in coming years. "As Home Depot saturates its geographical expansion with the orange stores, it will need to seek alternative investment opportunities," says Wachovia Securities Inc. analyst David A. Buchsbaum.
That could be a problem. Home Depot's efforts to develop other concepts have moved slowly. It took eight years to ramp up its Expo Design Centers, home-design and decor stores launched in the early 1990s. Depot has repeatedly rejiggered the concept. Executives believe they've got the format right now: The 21 Expo stores, which consist mostly of sample rooms showcasing products, are averaging $45 million in annual sales, the same as the average Home Depot unit, and with the same returns. Still, Depot expects to open only 179 more Expos over the next five years--well below the pace of the warehouse stores.
GETTING IT RIGHT. Then there's Villager's Hardware, a small-format hardware store Home Depot is testing in four New Jersey locations. Burton says the units, which carry basic hardware as well as plants, paint, and coffeemakers, are "a way for us to go after densely populated areas where it's difficult [to find] real estate." But ING Barings analyst Maureen M. McGrath is skeptical. "I'm just not convinced the Villager's Hardware is the right format." With its heavy emphasis on kitchen wares, Villager's may disappoint shoppers looking for nuts, bolts, and power tools. "It's really for women," grumbles Detlef Scholz, a corporate pilot who was recently shopping at the Saddle Brook (N.J.) location. "I wish it had more specialty tools."
And Home Depot believes it can generate growth and wring new efficiencies out of its core warehouse stores with new services such as tool rentals. In January, the company added big-ticket appliances like refrigerators and ovens. While the company says initial sales are encouraging, the margins in the appliance business are razor-thin and Depot faces formidable competition from the likes of Sears, Roebuck & Co. (S), which controls 38% of the market. Sears won't surrender share without a fight. "This is a very key business for Sears, and we plan to continue to grow it," says Tina Settecase, Sears' general manager for appliances.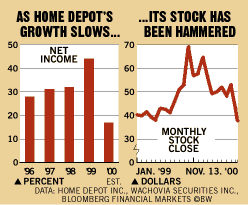 At the same time, the company is redoubling its efforts to woo professional contractors, which now account for almost 30% of sales. Contractors interviewed by BUSINESS WEEK said they use Home Depot because of its many locations and one-stop shopping, but that the retailer still doesn't provide the selection--or service--found at electrical supply houses or lumber yards. "They don't have people on staff with the expertise or ability to expedite a lumber order on time," says Adam Helfman, president of Fairway Construction Co., a $15 million remodeling business in Southfield, Mich. "There are too many gaps." To fix that, the company has rolled out "pro initiatives" in 160 stores, with plans to expand the service to another 40 by early next year. The program includes an additional 12 to 15 specially trained salespeople, as well as same-day delivery in some instances. Depot says stores that have added the new services have seen initial sales gains of 5% or better.
Will all this be enough to reignite Home Depot? Company officials note that after a similar swoon in 1995, the company rebounded nicely, with profits rising more than 40% in 1999. But the hardware chain is a lot more ubiquitous now. With the housing boom showing signs that it's played out, Depot may find it needs a whole new set of tools to get its growth back on track.
Before it's here, it's on the Bloomberg Terminal.
LEARN MORE