An impressive upswing in the third-quarter results at Univision Communications (UVN), the 800-pound gorilla in U.S. Spanish TV, has halted the stock's steep slide. Trading at 62 in August, it had dropped to 26 in mid-October. But it has since revived, closing at 38 on Oct. 24. The 56% third-quarter earnings jump (before special charges) and a 20% rise in sales helped.
But takeover speculation was partly behind the uptick, say some pros. "The stock's oversold condition has awakened interest in Univision from the likes of industry consolidator Clear Channel Communications," says one fund manager. Clear Channel owns 19 TV stations and is affiliated with 874 radio stations. It also has a 26% stake in Hispanic Broadcasting, a U.S. network. Clear Channel has been a "participant in the consolidation" of fast-growing Spanish broadcasting, notes analyst Richard Rosenstein of Goldman Sachs.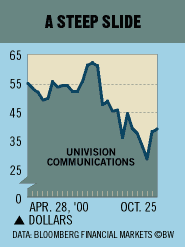 CEO Jerrold Perenchio, 68, who owns 10% of Univision, may be ready to "pursue other interests" and agree to do a deal, says an investor close to Univision. In August, Perenchio bought an additional 1 million shares at 45 to 47 apiece.
Analyst Frank Bodenchak of Morgan Stanley Dean Witter thinks the Spanish-language TV and radio sectors are "ripe for consolidation, given the massive pullback in the stocks." Univision, the nation's fifth-largest TV network, reaches 93% of Hispanic households in America through its 19 TV stations and its network of 33 affiliates and 1,100 cable affiliates. Analysts value Univision at 50 to 60 a share. A buyout could push it to 70.
Before it's here, it's on the Bloomberg Terminal.
LEARN MORE