The Way To Run A Railroad
Kansas City Southern is gathering speed on its route through Mexico, and a juicy buyout may be looming
Not so long ago, when Nissan Motor Co. (NSANY) shipped its red-hot Sentra sedans from plants in Mexico to dealerships in the U.S., getting them there was a big headache. Mexico's state-owned trains were plagued by miserable service and beset by illegal immigrants trying to hop rides and sometimes stealing car radios.
Today, the rail line between Mexico City and Laredo, Tex., is a well-oiled machine. It was privatized in 1996 and is now 37%-owned by Kansas City Southern Industries Inc. (KSU) With the guidance of KCS management, the renamed Grupo Transportacion Ferroviaria Mexicana (TFM) has embarked on a $919 million job of overhauling tracks, doubling the railcar fleet, leasing new locomotives, and upgrading the system.
THANK-YOU LETTERS. Nissan, which is doubling its production of Mexican-built Sentras, is thrilled with shorter shipping times and reduced vandalism. And DaimlerChrysler (DCX), which uses the rail line to ship its wildly popular PT Cruisers, recently gave it an award for excellent service. "We've been getting a lot of thank-you letters," says Juan I. Lopez, commercial executive vice-president at TFM.
Similar gratitude is flowing from investors who bucked Wall Street wisdom this summer and grabbed a piece of KCS. For years, the railroad company was overshadowed by its high-flying Janus Funds financial unit, not to mention several giant U.S. rail rivals. Few believed KCS could survive on its own. So when the financial-services unit was spun off on July 13, shareholders jumped off the train, cutting the KCS stock price in half. Almost immediately, 78% of KCS stock changed hands.
But lately, investors have been doing a double take. KCS earnings for the first half of the year leaped 50%, to $19.2 million. TFM accounted for $6 million of that profit--a sharp reversal from the $4.7 million loss the Mexican operation contributed in the first half of 1999. The Mexican railroad's revenues are expected to rise 24% this year, to $650 million, compared with an average 3% growth rate for all U.S. rails. Says Douglas W. Rockel, an analyst at ING Barings: "They've got what I believe is one of the fastest-growing railroads on the North American continent."
That has sparked speculation among many analysts and investors that KCS will become a juicy takeover target next year, when a federal moratorium on rail mergers is to be lifted. KCS shares today are trading around 8 1/2, up 36% from their close on July 13, the day of the spin-off. Meanwhile, shares of the spin-off, Stilwell Financial, are down about 20%, to 39, because of a lagging performance at Janus.
Credit for the Mexico strategy goes to Chief Executive Michael R. Haverty. When NAFTA took effect in 1994, Haverty saw the chance for increased trade between the U.S. and Mexico (chart). Two years later, Mexican railroads were privatized. With bigger U.S. lines digesting previous acquisitions, the only competing bidder for TFM was Union Pacific Corp. "We went against the grain," Haverty says.
DESPERATE. It didn't come cheap. KCS and shipping line Transportacion Maritima Mexicana paid $1.4 billion for 80% of TFM. "We bid so aggressively that it caused many in the financial community to criticize us as a desperate railroad with a desperate partner," recalls Haverty. But he knew that, as the rail route through Mexico's Northeast, TFM's system picked up goods from the auto, steel, appliance, and cement maquiladoras of Mexico's most industrialized states. KCS later formed an alliance with Canadian National Railway Co. that extends that route, letting TFM carry finished goods all the way to Canada.
Yet the rail investments got little attention on Wall Street where KCS has always been considered more of a financial player. Back when it was founded in 1887, the company had a successful insurance service business. Over the years, it added everything from mutual funds to telecommunications. In 1984, it bought a relatively unknown firm called Janus Capital Corp. for $24 million, just in time to catch the mutual-fund boom. In July, as part of a long-standing plan to optimize its value, KCS spun off Janus, with $325 billion in assets and 88% of KCS' earnings, and three smaller finance holdings as Stilwell Financial.
Meanwhile, KCS was under fire on the rail side. The merger of the Burlington Northern-Santa Fe and the Union Pacific-Southern Pacific railroads created larger systems that diverted traffic from KCS, draining $40 million a year from revenues for five years. Haverty, who came on board in 1995 after 21 years as chief operating officer at the Santa Fe Railway, hasn't been able to turn around KCS' operations in the U.S. Revenues for the domestic rail unit are flat, and the 20% profit margin at KCS pales next to the margins at some bigger railroads, analysts say. That's especially bad now, as high diesel-fuel prices eat up profits. "It's not running as efficient a railroad as a few years ago," complains Michael H. Lloyd, railroad analyst at Deutsche Banc Alex. Brown.
PANAMA PLOY. Haverty has made up for those flaws through his dealmaking. He's trying to replicate the Mexico strategy in Panama, where KCS recently won a 50-year concession to operate a 47-mile railroad that runs beside the Panama Canal. KCS will have to rebuild the tracks, which have fallen into disrepair. But the route should have a natural advantage: Trains can haul goods from the Atlantic to the Pacific in an hour, compared with nine hours for ships using the canal.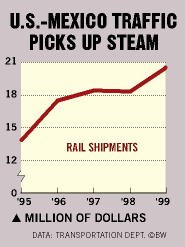 Investors also are betting that Haverty is dressing up KCS for a deal. Next June, Washington is scheduled to lift a merger moratorium designed to slow the industry's breakneck consolidation. "[KCS] is a jewel in the railroad industry that would be desirable to anyone because of its strategic property," says Sean D. Katof, a portfolio manager at Invesco Funds Group Inc. (AVZ), which owns KCS shares. A deal wouldn't be a slam-dunk, however. The Stilwell spin-off will lose a significant tax advantage if KCS management changes within 24 months.
Haverty says he's positioning the company to remain independent. But he adds coyly that the Internal Revenue Service rules regarding a sale are "not exactly crystal-clear" and says he's considering his options. That kind of adaptability might be just the ticket for keeping one of the stock market's most unlikely success stories on track.
Before it's here, it's on the Bloomberg Terminal.
LEARN MORE