For one week in August, I was a citizen of Black Rock City in the Nevada desert. To live there requires no small commitment, for each resident must bring his or her own food, water, shelter, and power, brave blinding dust storms, and risk dehydration--all in the name of art. It's the grounds of the Burning Man festival, a yearly, week-long bacchanal that attracts artists, digerati, geeks, freaks, ravers, and gawkers. This year, some 26,000 attended, at up to $250 a pop (the earlier tickets are bought, the cheaper).
Burning Man is the brainchild of Larry Harvey, a San Francisco artist who in 1986 gathered some 20 people on the beach and burned an 2.5-meter effigy of a man on the beach in honor of the summer solstice. The event must have struck a nerve, because the following year the man grew to 6 meters, and the celebrants numbered 80. The crowd doubled every year after that, until police intervention forced a move to the Black Rock Desert in 1991.
As the festival evolved, so did its underlying philosophy. The idea, says Harvey, is to blur the line between audience and art, between spectator and participant. The cost of putting on the event has evolved, too: Harvey says the budget now runs "between $4 million and $5 million," with $250,000 going to fund large-scale art.
MYSTERIOUS. This year, the word went out far and wide over the Internet, and in New York in June, after exploring the official Web site (www.burningman.com), I decided to join Camp Videogasm, one of hundreds of theme camps that would be built by festival-goers. After flying to Reno, Nev., and driving through the ochre desert hills, I arrive at the entrance to Black Rock. Greeters in gas masks and devil suits search RVs for gatecrashers. The ticket reads: "You voluntarily risk serious injury or death by attending." The site is the so-called playa, a mysterious, cracked, perfectly flat dry lake bed with no signs of life--except during the week that Black Rock City exists.
All is leisurely on that first hot afternoon. A few "artcars" in the form of motorized sofas and boats filled with revelers go by (speed limit: 8 kilometers per hour). I stroll the city. This year's theme is the body, so streets are named accordingly: Head Way, Gut Alley, Sex Drive, Anal Avenue. They are laid out in a semicircle around the central playa, which features about three dozen large-scale kinetic, interactive sculptures. People who aren't in extravagant costumes are simply naked or in body paint. Most are white, in their 20s or 30s, but there's a sprinkling of middle-aged hippies, a few teens, and almost no children.
CAPPUCCINO. The theme camps offer a kaleidoscopic show. They offer haircuts, nude sunscreen rubdowns, palm readings. Some provide dance floors that rival Manhattan clubs. Business is brisk at the Costco Soulmate Trading Outlet, where you can exchange your mate for another. In the spirit of anticommercialism, vending is not allowed, save for the real essentials: a cappuccino bar in Center Camp, and ice. Gift-giving and friendliness are encouraged; people exchange presents of food, bubble gum, stories.
Camp Videogasm has 30 members, an outdoor movie screen, inflatable living room set, and, of course, popcorn. We've got folks from New York City, Baltimore, Los Angeles, Japan. The camp's organizers, Chas Esser, 26, and Ed Lazar, 38, who used to have their own cable-access show, hope to make their annual presence at Burning Man into an informal film festival, "sort of a mini-Sundance thing," says Chas. They've driven a truck from Newark, N.J., full of video equipment, bikes (the best way to traverse the 10-square-kilometer playa), 1,500 liters of water, and a shade structure. We tether the tents with steel bars and sledge hammers, taming our own little piece of frontier. "Burning Man is about man's contempt for nature," cracks Chas. "We build a city because we can."
On the first night, whoops of joy go up as the sun sets. I see a fire truck nearly collide with a flame-throwing car. Gladiators on bungee cords battle each other inside a large geodesic dome. A huge sculpture with three faces cries flames. Skeletons made of electro-luminescent wire amble by. There's a giant Tesla coil. The 12-meter, neon-lit, explosives-packed wooden Man lights up. The festival will culminate with its burning, although there isn't any particular symbolism attached. Then the city itself will be dismantled and largely burned.
On Day Four, I set off to find Larry Harvey. We climb to a covered wooden platform and sit in the shade. Harvey, 51, wears his trademark Stetson hat. "Burning Man is about being and doing, not politics," he says with a quiet yet evangelical passion. "It keeps any social barrier in abeyance. How do you tell a dot-com millionaire from a starving artist if one is dressed as a chicken and the other painted green?" He sees Black Rock as a model Utopia that's also the physical embodiment of the Internet. As with the Web, artists can show their work to patrons without the middleman--so long as they make their money deals off-playa. The festival accepts no sponsors or advertising. I remember a saying by another communal leader, Chairman Mao: "Revolution is not an invitation to a party, but a thunderstorm," and I decide he was wrong.
Or maybe not. Later that day the rains come, and there are dust storms so thick you can't see your hand. Winds gust up to 110 kmh. Our camp's shade structure blows down, never to rise again. Temperatures plunge. It's too cold to wash in a camp shower, and even some of the brightest glitterati are starting to look unkempt.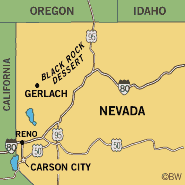 Still, the day of the burn feels like New Year's Eve. There's palpable suspense. Small groups gather around the Man, waiting. "After the burn, people go nuts," a man on a bike tells me. "They start making love." True to the gestalt, the Man accidentally goes off a bit early, throwing off the schedules of 200 fire performers. There are fireworks, a laser light show, and an opera featuring body-painted, shivering performers joining a yoni and lingam. People cheer and dance in the glowing embers of neon tubing and wood. Then they head for the camps to continue the all-night party.
As Black Rock City vanishes, Chas and Ed rewind their videos, repack the truck, and head east. I catch a ride to Reno to await my flight and wander the casinos, watching the glazed eyes of casino gamblers as they feed quarters into machines. Maybe next year they should try Burning Man.
Before it's here, it's on the Bloomberg Terminal.
LEARN MORE