U.S.: Look What's Moving Off The Back Burner
Inflation is picking up, and it's not just because of costlier crude
Is inflation dead? Given its corpse-like stillness in recent years, some folks are ready to sign the death certificate. But wait a minute. There's a twitch in the price data.
Don't worry: Inflation is not about to jump up and grab us. The August consumer price index fell 0.1% from July, reflecting the month's dip in gasoline prices, while the core index, which excludes energy and food, rose a benign 0.2%. Still, the behavior of the price indexes this year deserves keen attention in the outlook for next year, and the focus goes far beyond oil.
The fact is, core inflation is making a clear break from the disinflationary trend that has been in place throughout this 9 1/2-year expansion. In August, the core consumer price index rose 2.5% from the year before. That's not much, but it's the fastest annual clip in two years, up from a low of 1.9% in December, and all of the pressure is coming from services (chart, table).
How can that be? After all, unit-labor costs have actually fallen over the past year because of eye-popping productivity gains. Economists, however, have long recognized two types of inflationary impetus: "cost-push" forces from the supply side of the economy and "demand-pull" pressure. The upward tilt to core inflation is coming from red-hot demand, as many companies pounce on the opportunity to regain some pricing power. The Federal Reserve is trying to vent this demand-side pressure before spending tightens the labor markets so much that costs and prices begin to spiral upward.
THE UPWARD CREEP in inflation in 2000 makes the outlook for 2001 especially tricky. Next year could see an unsettling combo of faster inflation and a slower economy, especially if oil prices remain high and cut further into demand. Plus, any economic slowdown could complicate the inflation outlook. If, as is widely expected, productivity growth slows a notch as overall output cools, unit-labor costs will very likely speed up, bringing new pressure from the cost side into play.
Prices are growing especially fast in the service sector. Core service inflation sped up to 3.4% in August. That's the fastest 12-month pace in 4 1/2 years, and it's up sharply from a low of 2.5% late last year. Moreover, the upturn in service inflation has been broad, although the biggest acceleration has come in basic housing costs, apart from energy, and medical care.
Unlike services, core goods prices aren't twitching at all. Even without the month's falloff in gasoline, core goods prices still declined 0.1%, and the yearly inflation rate, at 0.5%, shows no sign of turning up. Goods inflation is being held down by competition from imports, thanks to the strong dollar, and falling prices for new-technology goods.
Keep in mind, though, that services less energy are 54% of the total CPI and 70% of the core CPI. Far less directly affected by those factors, especially global influences, services are driven much more by domestic demand, especially from consumers. And so far, the question of how much household spending is slowing--and for how long--remains unanswered.
THE AUGUST DATA on retail sales and housing starts suggest that consumer spending is picking up again, and that the worst of this year's dropoff in homebuilding is over. Plus, given that third-quarter demand is firming, the slowdown in industrial production may prove to be a short-lived inventory adjustment.
The slim 0.2% advance in July business inventories may well have been the key number for third-quarter gross domestic product. The small rise followed monthly increases averaging 0.6% per month in the first half and 0.8% during the second quarter. The sharp deceleration strongly suggests that a slower rate of stock-building was a big drain on third-quarter GDP growth. Indeed, based on the small 0.1% increases in manufacturing production in both July and August, factory output in the third quarter is struggling to grow at half the 7.4% pace of the first half.
But a slowdown will have to last beyond the third quarter to relieve growing inflation pressures. With consumer demand picking up and output having slowed, any inventory adjustment will occur quickly, laying the groundwork for a production rebound.
Despite the soft-looking 0.2% hike in August retail sales, July buying was better than first reported and September survey data look strong. Based on retail sales categories that feed directly into the GDP data, plus other indicators, real consumer spending could post third-quarter growth of around 4.5%. That would be a rebound from the second quarter's sluggish 2.9% advance, although still below the past year's 5.4% pace.
The weakness in housing, meanwhile, may be bottoming out. Clearly, homebuilding was a big drag on third-quarter GDP, but housing starts stopped falling in August, rising 0.3% after three months of declines. Also, the September survey of homebuilders by the industry's trade group shows a small rebound in builders' sentiment regarding general market conditions (chart). Sales expectations have picked up nicely, probably because of the recent fall in mortgage rates.
If the spring and summer cooldown in overall demand has about run its course, then upward pressure on core inflation is unlikely to abate heading into 2001.
MOREOVER, THE NEW UNCERTAINTY in the outlook is the price of oil, which remains stubbornly above $35 per barrel as of Sept. 20. This recent jump in crude prices will show up in the September price reports.
So far, however, there is little evidence that higher energy prices are filtering through to the broader economy. Air fares have shown some upward drift, but that's about it. Pricing power among goods producers is going to remain very limited, but chances for the pass-through of higher costs in the service sector are much greater if demand fails to abate in the coming year.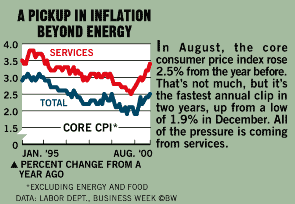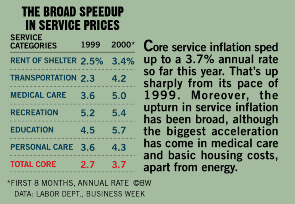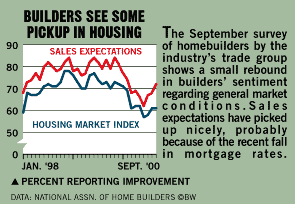 Another key inflation danger from spiking oil prices lies in how they ultimately affect inflation expectations. In particular, amid extremely tight labor markets, bigger energy bills--whether for gas or heating oil--are very likely to influence wage demands. Remember that back in 1998-99, nominal wage growth actually slowed, mainly as a result of the 1997 oil-related drop in inflation, which lowered the inflation expectations of workers. Despite the smaller nominal pay gains, real wages actually sped up.
Now, the opposite is occurring. After making great strides in 1997-99, real wages of production workers have stopped growing, thanks to the oil-driven runup in inflation. Higher total inflation this year will push up wage growth next year, especially for workers with cost of living adjustments.
Throughout the postwar era, economic history has taught us that just when you think something is dead--such as inflation--that's usually the time to keep an eye on it. This looks like another one of those times.
Before it's here, it's on the Bloomberg Terminal.
LEARN MORE