Traditional Advertisers Burst Onto The Net
Stuffy Japanese blue chips are discovering it's a hot tool
Japanese blue chips are some of the stodgiest companies in the world, and their advertising strategies usually reflect that conservative bent: Nothing too innovative, please. But this fall in Japan, companies like Bank of Tokyo-Mitsubishi, Asahi, and Toshiba are falling over themselves to advertise online. The result: Online advertising is turning into one of the hottest marketing tools in Tokyo, producing a stream of revenue that could give the Japanese Net a real lift.
Japan's top companies are learning from their U.S. counterparts the best way to advertise online. They saw American companies pour a fortune into myriad, little-viewed Web pages, only to discover that a few well-placed ads on heavily viewed portals had a much bigger payoff.
With these lessons in mind, Japan Inc. is charging into online advertising. While such ads account for just 0.4% of Japan's $53 billion advertising market, online ad sales doubled last year. They're expected to double again this year, and again by 2002, to $943 million. "Old Japan companies know not to be left in the dust," says Thomas Rodes, Internet analyst at Nikko Salomon Smith Barney. "They have learned that the Internet is where you go to find consumers."
The blue chips are recognizing the Web's potential to target customers more precisely and economically. Take Bank of Tokyo-Mitsubishi, Japan's most venerable lender. The bank has doubled online ad spending since last year, making the ads a centerpiece of its media strategy. "At first, we couldn't see the benefits of advertising on the Net, but now that we've integrated online ads into our special campaigns, we are having more success," says Toru Watanabe, the company's head of online advertising.
Other big companies such as Toyota Motors, All Nippon Airways, and NEC are following the lessons of early Internet forays by focusing mostly on big search engines such as Yahoo! Japan, where banner ads sell for as much as $37,750 a month. Yahoo! Japan's net profits soared 182% in the April-June quarter with more than 600 advertisers buying ads, a 42% increase. Businesses wanting to reach more specialized audiences are going through companies such as Value Click Japan, which distributes ads to more than 7,000 sites. Advertisers can use Value Click to target sites aimed at teens, for example, or women. Companies pay only for ads that viewers click through to; that allows them to gain more precise information on consumer interests.
The technology, which was developed by Value Click's U.S. parent, is so popular that Value Click Japan's sales are growing 30% a quarter. The now profitable company raised $30 million in an initial public offering in May. Ad space is sold out nearly two months in advance. "If Kirin beer takes out an ad, Asahi and Sapporo come right after--it's always the case," says Value Click Japan's 30-year-old CEO, Jonathan Hendriksen, a New Zealander and former bellboy.
CELLULAR COUPONS. Demand is even stronger for banner ads on cellular phones such as NTT DoCoMo Inc.'s popular i-mode, which keeps users continuously logged on to the Net. Ads placed on mobile phones cost at least 30% more than those on PCs because cell-phone users are two to three times more likely to click on the ads, which take them to the companies' Web sites. Advertisers also like mobile ads because consumers see them when they are out and about, and thus are more likely to act on the prompting of an ad. Some ads double as coupons, entitling the phone-bearing shopper to a discount. "Mobile phones are great for targeting young people," says Hiromichi Hirota, an analyst at Jupiter Communications Inc.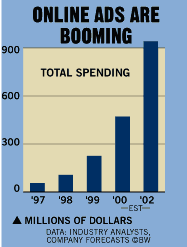 Analysts expect mobile sales to rocket next year when new broadband technology allows for more sophisticated ads. The market is so hot that leading ad agency Dentsu Inc.'s online unit, Cyber Communications, hooked up with NTT DoCoMo to promote i-mode ads. "We recognize there is huge potential out there," says DoCoMo CEO Keiji Tachikawa. Cyber Communications plans to go public Sept. 21, ahead of its parent.
Other Net-related companies are getting a boost from the boom, too. Magclick Inc., a distributor of e-mail magazines, has 3.6 million subscribers just one year after going into business and was able to post a $780,000 net profit for the first half. It went public Sept. 5, and shares rose 23% on the first day of trading. Several competitors hope to mimic that success when they go public later this year. With no sign of a slowdown in Japan's online advertising, they're likely to get a warm welcome, too.
Before it's here, it's on the Bloomberg Terminal.
LEARN MORE