If You Can't Stop Wildfires, Tame Them
In his white Chevy Suburban, H.B. "Doc" Smith slows down. "Over on this side," he says, "there are perhaps 60 or 80 species in that forest." He points to an open meadow dotted with tall ponderosa pines. It doesn't look a forest as much as it does a savannah, having been thinned about 15 or 20 years ago to somewhat simulate the effects of fire. A handful of 15-foot trees and a dozen big, cinnamon-barked pines reaching up 80 feet grow among waist-high grasses. Sun drenches the ground as a red-tailed hawk sails above our heads.
Smith is program coordinator of the Ecological Restoration Institute at Northern Arizona University. He and I are on a dirt track only a few miles from downtown Flagstaff on a bright Arizona afternoon in mid-August. Elsewhere in the American West at this moment, millions of acres of forests are ablaze. But not here. "That hawk is probably looking for mice," Smith says, "or for the birds that are feeding on the insects and butterflies attracted to the diversity of plants and flowers."
Next, Smith gestures to the thick forest on the opposite side of the dirt road. It is dark and motionless in a Brothers Grimm sort of way, despite the high sun, which is unable to penetrate very far, so close-packed are the stands of spindly pine known as "dog hair." Some of these trees, no bigger around than my wrist, are 80 years old and have never experienced fire. Perhaps only 15 plant species live here, Smith estimates, and none is thriving.
MANAGING FLAMES. The contrast between the two sides of the road is part of an experiment that could shape the future of Flagstaff, which was founded in the 1870s as a railroad and timber town. As recently as the mid-1980s, the local logging industry employed 650 people. Today, only two family-owned logging contractors are hanging on. Forests still surround Flagstaff, but most of them are a threat now, a tinderbox. It's here that a coalition of environmentalists, firefighters, and forest managers is trying a new approach to forest management that could reduce the threat of wildfires that seem more likely every summer in the West.
Flagstaff folk know the fear of such fires well enough. In May and June of 1996, several large fires burned forest lands inside the limits of this mile-high city of 60,000; five major fires nearby burned 30,000 acres. "You could stand in the center of Flagstaff and count 14 smoke plumes," recalls Jim Wheeler, Flagstaff's assistant fire chief. "It's the only time I've ever seen an entire community in a state of panic."
Starting in the 1980s, environmental groups and the federal government had sharply curtailed logging and grazing on Western public lands, including the 1.2 million-acre Coconino National Forest here. This was perceived by many as an environmental victory, but it didn't heal the forest, which was unnaturally overgrown with stunted trees. So in 1998, 15 groups--including Flagstaff-based environmental group Grand Canyon Trust, the Nature Conservancy, the U.S. Fish & Wildlife Service, and the Flagstaff Chamber of Commerce--formed the Grand Canyon Forests Partnership. They proposed "ecosystem restoration" work on 170,000 acres around Flagstaff.
RECIPE FOR DISASTER. "We have been asking and taking from this land for a very, very long time," says Bradley L. Ack, director of conservation field programs for the nonprofit Grand Canyon Trust. From a distance, the 5 million acres of ponderosa-pine forests in northern Arizona look green and healthy, but most are not. Prior to Anglo-American settlement in the 1870s, many of these forests resembled the diverse savannah-like plot Smith had pointed out. Every few years, low-intensity wildfires burned through the grass, killing off most pine seedlings. The thick-barked older trees, with their high, widely separated crowns, generally survived. But fires vanished when cattle grazing began in the late 19th century. Cattle consumed the grass, and without grass, there were no grass fires. Pine seedlings thrived. In 1911, the U.S. Forest Service embarked on a policy of extinguishing all fires. Result: Flammable material accumulated for decades.
So far, the Forests Partnership has worked only on demonstration plots, typically 30 acres or so and totalling only 350 acres in 1998. The most dramatic element of the experiment is the removal of trees--lots of them. But instead of big trees, the Flagstaff experiment cuts the flammable small stuff. The goal is to return the ponderosa forests to something resembling pre-settlement, fire-resistant ecosystems. Some timber would be produced, but only as a by-product.
Ack hopes to expand the plots, which have been challenged in court by anti-logging groups. "We don't have time to screw around with 30-acre plots for 30 years," he says. This fall, plans call for cutting or burning 9,100 acres northwest of Flagstaff. "There's no doubt we're racing the clock." But, he adds, "as we rush into some sort of Marshall Plan for our forests, we have to ask very hard questions."
Everyone involved agrees that forest-restoration projects won't pay their own way. Costs will be enormous; even when it was selling big, desirable saw logs, the U.S. Forest Service managed to lose approximately $1 billion annually on timber sales. Most of the wood removed around Flagstaff will be small-diameter pine. Limited markets exist for fence poles, firewood, and pallets, says Debra S. Larson, a civil-engineering professor at Northern Arizona University. Net costs might run $200-$600 per acre or more, and the U.S. Forest Service has identified 39 million acres of high-risk lands.
Lacking the needed infrastructure to process wood pulp, "we have no real, established market to sell this [raw material] into," says Larson. Attracting new mills, she adds, is "a chicken-and-egg situation. Who's going to invest in a situation where we've been fighting two years to treat 10,000 acres?" For now, taxpayers will have to foot the bill. But, Larson argues, the end result will be reduced fire hazard, healthier forests, and perhaps, if the investment dollars come in, a revitalized economy.
That's a good future, says Taylor McKinnon, a program associate at Grand Canyon Trust. "We need to face up to the fact that our country uses a hell of a lot of wood products," McKinnon says. "If they're not coming from the U.S., they're probably coming from some place that has much looser environmental controls."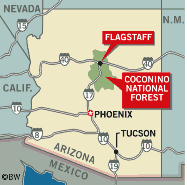 Despite the Forests Partnership's slow start, some work is being done. The Coconino National Forest conducts controlled burning on 12,000 acres annually, and the Flagstaff Fire Dept. thins an additional 1,000 acres a year. "We cannot deal with the requests we have," says Paul Summerfelt, fuel management officer for the Flagstaff Fire Dept., "and every time we have a project [to thin out an area], we get requests to do more."
Some residents are beginning to take matters into their own hands. Developer James P. Mehen is thinning the trees on his planned, 410-acre Flagstaff Ranch development at his own expense. "A developer developing in a pine forest has a huge risk that his forest is going to burn down, and then what's his land worth?" says Mehen, whose father, a logger, took his young son to see, and feel, a raging forest fire. "I was scared to death of crown fires. Now that I live in the forest, I'm extremely conscious of how dangerous those fires can be."
Before it's here, it's on the Bloomberg Terminal.
LEARN MORE