Commentary: Carmakers: Churning Them Out Along With Defects
When brand new two-wheel drive Ford trucks started showing up at an Ohio dealership with a button to activate a non-existent four-wheel drive system and missing such parts as their CD changers, the sales manager began to take notice. The manager, who asked not to be identified, says he now routinely checks each new arrival just to make sure it lives up to the features its sticker advertises.
Certainly, neither problem is on the same scale as the potential defect that has prompted Bridgestone/Firestone Inc. to recall close to 14.5 million tires. But such slipups make the Ohio dealer nervous. Not since the mid- to late 1980s, when the U.S. auto industry last hit a sustained, heavy pace of sales, has he seen so many problems: Vehicles arriving at showrooms with parts missing, not working--or simply unnecessary. And when he talks to fellow retailers around the country, he hears the same worry endlessly repeated. These days, "they announce recalls all the time, " says Lou Stanford, a Ford and Lincoln Mercury dealer in suburban Detroit. "Last year, they recalled more cars than they built." And it's not just Ford.
So are quality or safety problems rising in cars? Beyond the anecdotes, recall numbers suggest cause for concern: In July alone, there were close to two million official recalls, according to the Web site for the National Highway Traffic Safety Administration. That includes 19,540 2000 Honda Accords with improperly welded suspension parts, 263,278 Daimler Chrysler Neons built in 2000 with a throttle system that could freeze in cold weather and keep a car from returning to idle, and 268,146 1995-96 Buicks and Oldsmobiles from General Motors with airbag control wiring that could corrode, causing indiscriminate deployment.
For the first seven months of 2000, the site lists at least 70 automotive recalls involving some 7.3 million vehicles. In 1999, when the industry sold a record 17.1 million cars and trucks, around 19.9 million were recalled. That totaled about 9.5% of the 210 million vehicles on the road, according to R.L. Polk & Co. data on vehicle registrations--a big jump from 3.9% in 1990, when 179 million registered cars were in use.
DISTURBING. The numbers are disturbing. But from the industry's perspective, the spike in recalls simply reflects an increased willingness among car companies and parts makers to respond quickly to potential design flaws or manufacturing mishaps. That is a valid argument.
But why are there so many flaws and mishaps in the first place? Experts suggest that the quality problems could be tied to the industry's push for greater efficiency in the face of record demand. To comprehend the pressure on carmakers and their workers, just look at overtime statistics. Sean P. McAlinden, manager of economic studies for the University of Michigan's Office for the Study of Automotive Transportation, says auto overtime is nearing levels last seen in World War II when the nation's very survival depended on it. Ward's Automotive Reports calculates that 6.4%, or more than one million vehicles, were made on overtime.
That means the industry depends on a lot of tired workers and on equipment that may not have been out of operation long enough for proper maintenance and repairs. While all this overtime has made its members richer, the United Auto Workers says the unrelenting pace requires workers to commit to an average of seven hours per week overtime. Certain job categories face a standard 10 or more hours overtime each week. "Unquestionably there is an impact," agrees Nelson N. Lichtenstein, a historian and expert on labor issues from the University of Virginia. "Mistakes are made." Without overtime, the union estimates that the Big Three would have had to hire 86,000 more employees between 1996-1999.
For auto parts makers, the pressure is even more intense. The industry is struggling with consolidation, and price pressure has made margins extremely thin. All this has led to shortages as assembly lines fail to keep up with the pace, delaying launches of the Ford Escape, the new Jeep Cherokee, and the next update of the Ford Explorer. After coming late to market, the Ford Escape was almost immediately recalled for a faulty steering bolt. "[The industry has] been running hand to mouth--working Saturdays and even Sunday overtime," says Michael Robinet, an analyst for CSM Forecasting Inc. "These guys need a breather."
FLEXIBLE. But overtime has allowed the auto industry to look increasingly profitable over the years. Car companies can stay flexible on staffing levels. The massive layoffs and ramp ups of past years no longer are necessary. If demand slows, they merely will reduce the amount of overtime. Even at double time, overtime is cheaper than adding workers to the payroll and providing them with expensive benefits, such as health care and pension.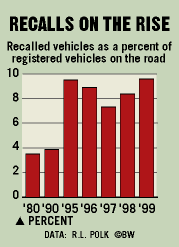 For its part, GM doesn't buy any correlation between increased overtime and a strain on the system. Sure, it's cost effective but a GM spokesman notes that the carmaker's hourly workers get 67 holidays over the life of their four-year contract in addition to vacation. Moreover, he asserts--although some workers privately disagree--that most overtime is voluntary.
So should car owners worry? Unfortunately, there are no firm numbers as to how big a danger such factors are, just hints of a problem. One reason: the National Highway Traffic Safety Administration, itself straining under a reduced budget has had trouble meeting the demand of a heavier workload.
Before it's here, it's on the Bloomberg Terminal.
LEARN MORE