Why This Property Boom Looks Different
With overbuilding kept in check, it may have some legs
On Aug. 1, real estate magnate Sam Zell's Chicago-based Equity Office Properties Trust, the country's largest office-building owner, announced plans to acquire a midtown Manhattan skyscraper for a reported $715 million, more than double what real estate investment firm Tishman Speyer Properties and its partners paid for it in 1988. Two weeks earlier, Orange County billionaire developer Donald Bren handed fellow billionaire Marvin Davis an $80 million profit on a 700,000-square-foot office complex in Century City, Calif. Davis had owned the building for less than three years, and still got a record $490 a square foot for it, twice what many Class A buildings in that area were trading for only a year ago.
Across the country, "For Sale" and "Sold" signs are popping up on office buildings. That includes landmarks such as Rockefeller Center and the World Trade Center in Manhattan. What's the rush to market? National average occupancy rates are close to 94% (chart). Add to that rents per square foot that in some cities like San Francisco are double what they were a year ago, and you get the picture. Bottom line, it's a simple matter of supply (not enough) and demand (booming). Sure, Old Economy companies have been consolidating and restructuring for years, and even the plethora of dot-coms is trying to rationalize. But with unemployment near a low 4%, employers are desperate to find places to put their workers. "I don't think we're near the top," says Mortimer B. Zuckerman, chairman of Boston Properties, one of the nation's largest office building owners.
EIGHTIES REVISITED? In some ways, the euphoria is all sounding very 1980s. Big sales. Even bigger hype. A market cruising for a bruising. Where's Donald Trump? But there are two significant differences. First, the underlying economy igniting this boom seems structurally more sound, thanks to productivity gains from capital investment in technology and a more rational use of debt by many companies. Second, and perhaps more important, developers and lenders have demonstrated a level of discipline not seen in previous cycles.
Such overbuilding doomed real estate a decade ago, when vacancies hovered around 20% and banks granted generous construction loans approaching 100%. This time developers have been saved from indulging their worst instincts. First, until the recent Nasdaq debacle, there was a lot more quick money to be made in tech stocks. But many lenders are now touchier about giving construction loans, requiring builders to put up at least 30% of their own money for any project. The tax code has also become less obliging, with fewer easy writeoffs for bad building investments.
Indeed, F.W. Dodge, a business research division of The McGraw-Hill Companies, estimates new office construction will be virtually flat this year compared with 1999, with about 275 million square feet of new space coming on line. "As a consequence of the big hiccup in the late '80s and early '90s, this time around there's much more financial prudence by real estate developers and financial institutions," says Stephen F. Blau, a principal at GMH Capital Partners, a real estate firm in Newtown Square, Pa. "No one's letting the horses run wild."
Still, property owners know an opportunity when they see it, and many who had been waiting on the sidelines are now trying to cash in. This is especially true of high-yield real estate investment vehicles. Most purchased assets in the mid-'90s and now can lock in big gains. Indeed, according to Granite Partners, a New York-based real estate investment banking firm, such investment funds put some $4.7 billion worth of office property on the block in the first half of this year. In all of 1999, they sold $2.8 billion.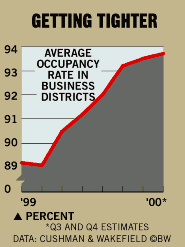 This year those funds weren't alone. Another $18 billion in office properties came to market in the same half, up 37% from the period last year, Granite estimates. The flood could dampen prices, but "the confluence of the strength of leasing markets and the economic expansion has truly created tremendous value in these properties. There's still lots of cushion [profit] to be harvested," says Granite President John Lyons.
At least, that's what Zell and Zuckerman hope. Sources say they're among those interested in a possible purchase of Rockefeller Center. The potential price tag: up to $2.5 billion, double what it sold for four years ago.
Before it's here, it's on the Bloomberg Terminal.
LEARN MORE