U.S.: The Economy Didn't Take A Spring Break After All
But so far, productivity gains are keeping pressure off inflation
Oops. The soft landing just hit an updraft. Despite signs from the monthly data that domestic demand was bending to the "go-slow" dictates of the Federal Reserve, the latest report on real gross domestic product showed that the U.S. economy did not cool off in the second quarter. What's more, the mix of growth gave little reason to expect that the third-quarter pace is slowing enough to curb the upward pressure on labor costs, as seen in the latest employment cost index.
The good news: As far as inflation and Fed policy are concerned, none of this is terribly dire--at least not yet. That's because the Fed's often-stated goal is to bring the growth rate of demand into better balance with potential supply. Despite its lack of success in reining in demand, the Fed continues to get plenty of help on the supply side. Productivity data, to be released on Aug. 8, will show another stellar performance last quarter, a gain possibly exceeding 4%. At that rate, even the recent intense demand pressures on labor costs cannot fuel inflation.
But as long as overall demand stays on the boil, the Fed will not be able to relax its efforts to keep inflation tame. Strong productivity growth reduces the urgency to hike interest rates further, but the overwhelming strength of the latest batch of data strongly argues that the Fed has more work to do in the second half.
THE SECOND-QUARTER GDP was a stunner. It jumped at an annual rate of 5.2%, after a revised 4.8% advance in the first quarter and a huge 7% average pace in the second half of 1999. Measured from a year ago, the economy last quarter grew 6%, the fastest four-quarter rate in 16 years. On that basis, both real GDP and overall demand are still accelerating (chart). These patterns are hardly in keeping with the Fed's wishes.
Overall demand did slow, as expected, in the second quarter, but not by as much as economists had generally anticipated. Final sales of goods and services rose at a 4.2% rate, down from 6.7% in the first quarter. Another big and broad gain in capital spending on new equipment, both high-tech and lower-tech gear, boosted demand, as well as a rebound in federal military spending, which had fallen sharply in the first quarter.
Consumers also hit the brakes, but not enough to cause much rejoicing. Real household spending advanced by 3%, vs. the first quarter's 7.6% surge, when unusually mild winter weather and generous car-buying incentives boosted first-quarter sales of autos and housing-related durable goods. Some of that demand was "stolen" from the second quarter.
Because the last quarter's slowdown was related to the prior quarter's exaggerated strength, an averaging of the two gives a clearer picture of the trend. That shows household spending grew at a 5.3% annual rate in the first half, compared with a 5.5% pace in the second half of 1999.
With consumer fundamentals so strong, consumer spending is likely to speed up from its 3% second-quarter pace in this year's second half. July weekly retail surveys already look stronger. July vehicle sales rose to an annual rate of 17.2 million, up from 16.9 million in both May and June. On the softer side, new home sales continued to weaken in June, falling 3.7% from May.
A MAJOR SOURCE of strength in second-quarter GDP came from inventories. They accumulated at a $60.3 billion rate, after growing by $36.6 billion in the first quarter. The faster buildup added one percentage point to overall GDP growth. But was the inventory buildup intended, in order to meet strong demand, or unintended, because demand fell short of expectations? If it was unintentional, then output may slow in the months ahead, boosting the chances for a soft landing.
The stockpiling, however, appears to have been intentional, since inventory growth is still running far behind growth in the final sales of goods (chart). Remember that many businesses loaded up on supplies at the end of 1999, a huge $80.9 billion increase, in anticipation of Y2K computer problems. Those same companies ran down their inventories in the first quarter. The second-quarter gain is close to the $60 billion average of the fourth and first quarters.
More important, the first-quarter surge in auto sales caused an outright liquidation of auto inventories, which had to be rebuilt in the second quarter. In that period, the swing in retail stockpiles of vehicles accounted for $18 billion of the $23.7 billion contribution of inventory growth to the GDP advance.
Plus, in light of June's 10% jump in durable goods orders, it's difficult to argue that output will slow in coming months because of burdensome inventories or for any other reason. Sure, these bookings are volatile from month to month, but the June gain was on top of May's 7% advance, making the largest two-month gain on record.
The flood of new orders pushed up the backlog of unfilled orders in June, and its growth has accelerated this year. Additionally, the July purchasing managers' index held at its June level of 51.8%, a reading that suggests continued growth, although this index is down a bit from its levels earlier in the year.
CONTINUED OUTPUT GAINS mean the demand for skilled workers will remain strong. So businesses, which are already shelling out more for labor, will see wages and salaries rise further in the second half. The Labor Dept.'s employment cost index, which tracks the cost of wages, salaries, and benefits for civilian workers, rose 1% in the second quarter. Compared with a year ago, compensation is up 4.4%, the largest gain in nine years.
The acceleration is evident in both salaries and benefits (chart). Benefits alone have soared 5.3%. In 1996 and 1997, benefits were rising less than 2%. Part of the long-term acceleration results from higher costs for health-care insurance, supplemental pay, and paid leave.
Luckily for employers, the stellar gains in productivity mean that extra output is financing the bigger paychecks. If productivity rose more than 4% last quarter, unit labor costs were probably about flat, both for the quarter and compared with the year before.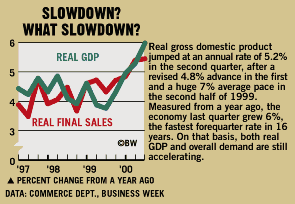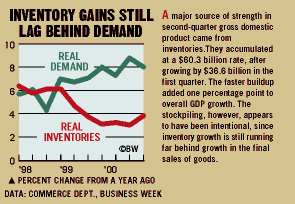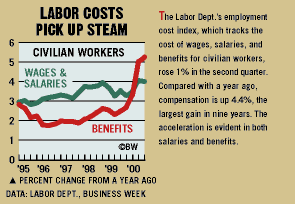 The ECI now includes nonproduction bonuses such as those for hiring and referral, but their inclusion does not explain the acceleration in compensation over the past few years. Instead, the demand for workers is forcing businesses to pay more to attract and keep skilled employees. And as long as labor-market conditions include a 4% unemployment rate, compensation will continue to grow faster.
That's why the race between productivity and compensation will heat up in the second half. Companies will have to keep boosting efficiency, so that bigger paychecks will not translate into price increases. If they cannot, inflation pressures will pick up. That's why the Fed will not fully relax until overall demand has cooled off significantly. Based on the latest data, that doesn't seem to be happening.
Before it's here, it's on the Bloomberg Terminal.
LEARN MORE