Hike If You Like
Small biz is raising prices--and getting away with it
If you've been fantasizing about raising prices, this might be the time to make your dreams come true. The National Federation of Independent Business' June survey found that 25% of small companies hiked prices in the previous quarter--the fifth straight month the number exceeded 20% and the greatest string of increases since 1996. Meanwhile, only 7% lowered prices, suggesting new pricing power among the nation's small companies.
That's some change. Rather than raise prices and risk losing customers, most entrepreneurs have focused on boosting efficiency. But for many small companies, productivity gains no longer keep pace with cost increases--especially with fast-rising health-care and labor costs. "Margins are deteriorating," says NFIB Chief Economist William C. Dunkelberg. Price hikes, he says, are occurring across all industries, with construction and professional services leading the way.
E. Martin Davidoff, owner of an eight-person accounting firm in South Brunswick, N.J., raised his rates about 3% this year and plans a similar step for early 2001. Even that might not protect his margins. Labor costs, he says, are up nearly 30% over the past 12 months. So Davidoff is working to become even more efficient by investing in computer systems and offering new perks to stop costly employee turnover.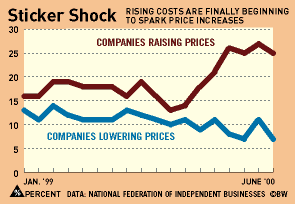 Davidoff's modest price hikes have met change users' habits. More than 20 million Netheads are estimated to now use the software. That's up from 1 million a year ago. And more than 1 million users are joining each month. "We see piracy as being a huge market enabler. Piracy has created the market for portable music players," says Gene Hoffman, CEO of eMusic, a Web music company that sells MP3s. Before Napster, says Hoffman, most music downloaders were members of a small group of hardcore aficionados and pirates. Now, he says, "more customers aronomy begins to slow--not a problem at the moment. Economic growth registered a greater-than-expected 5.2% in the second quarter, compared with 4.8% in the first quarter. The quickening pace may well spur an inflation-wary Federal Reserve to raise interest rates a seventh time, when it meets Aug. 22, in an effort to slow things down. So a word to the wise: If price hikes are your dream, you'd better act now--before you're jolted back to reality.
For more on coping with inflation and price hikes, click Online Extras at frontier.businessweek.com
Before it's here, it's on the Bloomberg Terminal.
LEARN MORE