Brazil: Stable Growth, Falling Rates
Brazil's recovery is on track, amid solid growth and surprisingly low inflation. As a result, the central bank has cut interest rates sharply this summer, and the currency remains firm. The key trouble spots in the outlook are the long-term concerns about Brazil's sizable external debt and its commitment to fiscal responsibility.
Analysts generally expect 4% growth for 2000 and 2001, even though the second-quarter pace appears to have slowed from the robust 7% clip in the first quarter. But household spending remains depressed, since the economy is not growing fast enough to cut unemployment. The jobless rate fell in June to 8.1%, from 8.4% in May, not much below the previous year's level, and consumer confidence is not improving. Growth is powered mainly by strong business investment. Exports are increasing, and imports are also strong.
Through the first half, consumer prices rose only 1.6%, vs. 4% in the same period in 1999. Prices are expected to pick up this quarter because of government-administered price hikes for electricity, telecom, and gasoline. But that won't jeopardize the 6% inflation target for 2000, which still looks achievable.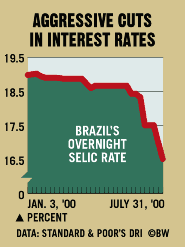 Given the mix of good growth, low inflation, and a stable currency, the central bank cut a key short-term interest rate by two percentage points, to 16.5%, from June 20 to July 20 (chart). Further reductions seem likely, given that inflation-adjusted rates are very high, but analysts do not expect them until after the October municipal elections.
All this is improving Brazil's fiscal accounts. Through May, the year's primary surplus, which excludes interest on the public debt, totaled 21.9 billion reals ($12.4 billion), already well above the International Monetary Fund's half-year target of 16.2 billion reals. But with the October municipal elections looming, some of that surplus will very likely be spent, especially since support for reform President Fernando Henrique Cardoso has waned after the huge 1999 currency devaluation and high unemployment.
Before it's here, it's on the Bloomberg Terminal.
LEARN MORE