Reports Of The Pc's Death...
Yes, sales are down, but most analysts expect a pickup soon
Call it the revenge of the free PC. A year ago, computer makers set off a feeding frenzy among consumers with the oldest trick in the book: slashing prices. By offering up sub-$600 PCs, along with $400 rebates for those willing to sign up for multiyear Internet connections, unit growth soared to almost 50% per month last July and August.
That was then. Now, with those super-low prices all but gone and precious little in the way of slick new products, the PC industry is sweating out summer dog days the likes of which it hasn't seen in years. Gateway, Compaq, and IBM barely met analysts' already modest quarterly sales expectations, while Apple came up short. On July 26, EMachines Inc., which vaulted to No. 3 in overall home-computer market share with its $400 models last year, posted a loss of $47 million on sales of just $124.5 million, a 42% drop from the same period last year. Market researchers Dataquest Inc. and International Data Corp., meanwhile, confirmed suspicions of slack sales. On July 24, IDC reported worldwide PC unit growth for the second quarter grew 14.5%--half the increase of a year ago. The news sparked a rush for the door: Investors beat down shares of Dell Computer by more than 10%, to $46; Apple Computer dropped 6.5% to $50; and Hewlett-Packard fell 10% to $110.
An overreaction? Yes--at least for the short term. Most analysts still expect the PC business to grow 19% in the second half and 18% for the year, buoyed by increased corporate sales. More important: growing recognition that at least a portion of the first half's softness can be attributed to a lack of inventory rather than a dearth of buyers. PC makers simply couldn't get the necessary supplies--from $500-plus Intel microprocessors to 2 cents capacitors. "More PCs could have sold in March and April than were sold, and I see fairly healthy PC demand in front of us," says Matt Massengill, CEO of hard-disk-drive maker Western Digital Corp.
Proof? Just look at the prices for all but the cheapest models: They have stabilized and are even trending upward. As a result, profits too are on the upswing even as sales slow. By trimming costs and focusing on sales of higher-end products with wider margins, Apple posted a 43% rise in net income, excluding one-time events, on revenue growth of 17%. On July 25, Compaq announced it had earned $387 million, compared with a $184 million loss in the same period a year ago. Even IBM narrowed losses at its beleaguered PC division, to $69 million in the second quarter from $178 million in the first.
The continued decline of inventories also belies a serious falloff of demand. Inventories of major consumer PC retailers actually fell between June and July and now are down to a two-week supply--and that's not likely to reverse given continuing shortages of parts.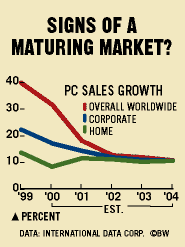 None of this contradicts the tepid long-run outlook for PC sales. Market leader Dell has clocked nearly 50% revenue increases in recent years, followed by 20-something-percent growth for other high-fliers. But analysts say sales of desktop PCs will see only single-digit growth by mid-decade. With PCs already standard issue at corporations and 58% of U.S. homes already on board, the machines will soon be commodities. "There's fewer and fewer new customers out there," says Dataquest analyst Charles Smulders.
As a result, PC makers are scrambling to diversify into services and big machines aimed at corporate customers. But that's the future. For now, PC makers are just trying to figure out how to stay ahead in the present.
Before it's here, it's on the Bloomberg Terminal.
LEARN MORE