Barbie, You Look Bodacious
With sales of the doll climbing, Mattel may be recovering
Like many mothers, Teresa Prentiss, of Champaign, Ill., spent the last two years chasing down Beanie Baby and Furby toys for her daughter Rhiannon. However, when the little girl celebrated her fourth birthday in April, those other toys had been pushed aside. Rhiannon now has six Barbie dolls and a string of Barbie accessories. "I can't tell you how much we spent on Barbie this year," sighs Teresa, as her daughter shampoos a Barbie in a tub nearby.
For Mattel Inc., such fanaticism is a welcome relief. For a while, it seemed as though America's top doll was having a midlife crisis. Worldwide sales of Barbie peaked at $1.9 billion in 1997 and declined for the next two years. Now all the signs point to a comeback. Sales in the U.S. jumped 14% in this year's first quarter and globally should rebound about 3% this year, to $1.6 billion.
This is great news for Barbie's new boss, Chairman and CEO Robert A. Eckert. The 45-year-old came on board in May, replacing Jill E. Barad, who was forced out after her controversial $3.5 billion acquisition of computer game maker Learning Co. imploded. Eckert, a former chief executive of Philip Morris Cos. Kraft Foods Inc. unit, plans to build on core brands like Barbie, Hot Wheels, and Fisher-Price toys. He'll do that through a mix of advertising and new products. And while Barbie's surge began with Barad, the doll figures heavily in Mattel's future.
Even in her darkest days, Barbie made up roughly one-third of the toymaker's revenues and a greater share of profits. This year, Merrill Lynch & Co. toy analyst Hayley Kissel expects Mattel's net earnings to be flat, at about $310 million, on revenues of $4.8 billion. Those disappointing numbers are due to weak foreign sales and problems in some toy car operations. Largely due to Barbie's resurgence, Kissel sees earnings upwards of $413 million by 2001.
SUGAR & SPICE. The credit for her makeover goes to Adrienne Fontanella, 41, who Barad made president of Mattel's Girls division in March of last year. Fontanella did a bit of everything to boost Barbie's appeal. A wider face made her look less waif-thin. A new campaign targeted different versions of Barbie to specific age groups, particularly older girls whose interest in the doll had waned. By adding new colors to Barbie's signature pink palette, even the packaging improved.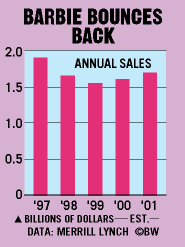 And the rest of Mattel? Eckert is in the process of trying to cut company losses by selling the Learning Co. Analysts are estimating the whole enterprise will bring just $500 million, a staggering $3 billion less than what Mattel paid. Alienated retailers should also be happy that Eckert no longer plans to sell Mattel toys through the company's Web site, a Barad initiative. "I don't see us competing directly with Wal-Mart and Toys `R' Us," he says. And to capture some of the growth in electronic toys, Eckert plans to license Mattel's brand names to game makers.
Eckert's strategy may not be as gutsy as Barad's. But as Barbie's rebounding sales suggest, there's a lot of life left in the old girl.
Before it's here, it's on the Bloomberg Terminal.
LEARN MORE