Publishing Magnate, Political Chameleon
THE CHIEF
The Life of William Randolph Hearst
By David Nasaw
Houghton Mifflin -- 687pp -- $35
Biographies inevitably say as much about the times in which they are written as about their subjects. Consider the numerous works on the life of media baron William Randolph Hearst. The populist 1930s saw the publication of two biographies, Ferdinand Lundberg's Imperial Hearst and Hearst: Lord of San Simeon by Oliver Carlson and Ernest Sutherland Bates, which portrayed the publisher as a fascist and an opportunist who placed profit above all else. But in the conservative 1950s and early '60s, more positive assessments appeared. John K. Winkler's William Randolph Hearst: A New Appraisal was a hagiographic portrait of a supremely innovative and generous man. W.A. Swanberg's Citizen Hearst, more balanced than any previous effort, found flaws but also "true splendor" in Hearst's life as "a fearless fighter" and "eccentric individualist."
Now comes The Chief: The Life of William Randolph Hearst by City University of New York historian David Nasaw, a thoroughly researched volume that must be regarded as the definitive work. But Nasaw's book is also reflective of its times: pro-business but wary of hype. Like several recent biographies of once-controversial tycoons--including Jean Strouse's Morgan and Ron Chernow's Titan: The Life of John D. Rockefeller--it is rigorously impartial, to the point of avoiding judgments. Quite in contrast to the attack mode favored by such political biographers as Robert Caro, Nasaw all but says, here are the facts in all of their voluptuous complexity--you decide what to make of them.
There's much to recommend the approach. It's hard to imagine a more complete rendering of Hearst's life. Nasaw has dug deep into the letters and papers of the man, his family, and most everyone who entered the Hearst orbit, from Theodore Roosevelt to Hollywood mogul Jack Warner to British Prime Minister David Lloyd George. He has interviewed surviving members of the Hearst family, employees, and acquaintances, and he has read lots of secondary literature. The author seems to fill in every gap, detailing, for example, Hearst's finances and his tortured interaction with Franklin Roosevelt. But The Chief left me longing for more evaluation: What to make of Hearst's wild political shifts, from left radicalism to an early embrace of Adolf Hitler and then to virulent, self-destructive anti-communism? What does it say about his times that someone of Hearst's personality and politics could attain such prominence? Just how much damage or good did Hearst really do?
Hearst was born rich, in 1863 in San Francisco. His father, George Hearst, had hit it big during the California gold rush and, later, became fabulously wealthy via other mining bonanzas. But because George was often roving, the controlling figure in William's life would be his mother, Phoebe. She organized a European tour, then prep school for the boy in New Hampshire, followed by admission to Harvard College. There, though, young Hearst showed that he knew his own mind, and behavior patterns that he would follow for the rest of his life started to emerge. A generous allowance let him buy everything he wanted, including entrance into the most prestigious campus clubs. He flouted convention, wining and dining his pals with his working-class mistress as a constant companion. He became business manager of the Harvard Lampoon and boosted its ad revenues by 300%. But he was soon expelled from college because of poor grades and a hard-partying "heedlessness."
No matter. In 1880, George Hearst had purchased The San Francisco Examiner as part of a bid for political office. The idea of running a newspaper took hold with Will, and by day, he began making a study of Joseph Pulitzer's lavishly packaged, two-penny New York World. (By night, Will studied actresses and the theater.) In 1887, young Hearst returned to San Francisco, his mistress in tow, and applied his lessons to the Examiner. Pouring money into the enterprise, he acquired the most advanced equipment and hired a stellar crew of writers. The new Examiner was bold in appearance, engrossing in content, and defiantly anti-railroad and pro-labor. Its circulation doubled in a year. By the mid-1890s, he was ready to take on New York and Pulitzer.
With spectacular illustrations, provocative headlines ("Killed by Hydrophobia"), and front-page stories mostly devoted to crime or high society, Hearst refined his formula at The New York Journal, which he purchased in 1895. He depleted Pulitzer's staff by offering high salaries and multiyear contracts. Objectivity had no place at the Journal: Its prototypical story featured corrupt officialdom, a victimized public, and the newspaper as rescuing hero. And it was unflinchingly Democratic: In 1896, it was the only large New York paper to support firebrand Democrat-Populist William Jennings Bryan for President. Circulation soared to 1.5 million, a journalistic record.
All the while, Hearst continued his unrespectable ways, spurning the society of the bourgeoisie for that of the demimonde. And all the while, since he regularly overspent, he was forced to beg for money, first from his father, then from Phoebe, who, upon George's death in 1890, assumed control of the family fortune, estimated that year at $15 million to $20 million.
Hearst's media empire, which soon added a Chicago newspaper, made him into a national force. By the turn of the century, he began using his power to pursue political office. In 1902, he was elected to Congress from New York as a self-proclaimed champion of immigrants and the working class. But he seldom voted and only appeared on the floor to promote leftish pet projects, such as government ownership of the railroads. By 1904, he'd become a serious contender for the Presidency.
Many, including President Theodore Roosevelt, who called him "sinister" and "evil," began to fear that Hearst might gain that office. But successive unsuccessful runs for the Democratic Presidential nomination, then for the New York City mayoralty and the state's governorship--the latter, accompanied by a media blitz that included moving-picture promotions--finally brought an end to his political ambitions.
All of this was only the beginning of a long, eventful existence. In 1903, at age 40, Hearst had married Millicent Willson, a chorus girl, against the ever-controlling Phoebe's wishes. Twelve years later, he began a lifelong, adulterous relationship with another chorus girl, the then 18-year-old Marion Davies, whom in time he would turn into a movie star. In 1919, with a dozen jointly produced feature films under his belt, Hearst set up his own movie studio. That same year, he began building his incomparable California mountain castle at San Simeon--and shortly thereafter started accumulating warehouses full of artwork and architectural treasures. Along with political grandstanding via his media, the key obsessions for the rest of his life would be Davies, the movies, construction, and collecting.
Nasaw details Hearst's high-flying years during the 1920s: In his 60s, he continued to purchase and start up newspapers while spending extravagantly to build his medieval redoubt (complete with an airfield and an elaborate private zoo), a mammoth Beverly Hills mansion for Davies, and a Long Island estate for Millicent, from whom he now lived almost entirely apart. Hearst and Davies became the virtual "king and queen of Hollywood," entertaining hundreds of movie-star and publishing-world guests several times a week. Davies was recognized as a bona fide star after leading in three major silent-movie hits. But Hearst journalism had lost its edge. No longer spearheading crusades, his newspapers endorsed Republican candidates such as Calvin Coolidge and featured columns written by Benito Mussolini and Hitler.
Relations between Hearst and Franklin D. Roosevelt were particularly thorny. The author describes how, having helped FDR gain the 1932 Democratic Presidential nomination, Hearst repeatedly fluctuated between endorsing and defaming the New Deal and its architect. Again and again, the President overcame Hearst's denunciations of such programs as the National Recovery Administration, winning new pledges of allegiance by offering Hearst little more than invitations to the White House. In private, Roosevelt complained of Hearst's power and went so far as to request that the Treasury Secretary "look up his income tax" as ammunition. Then, in 1934, Hearst began a virulent anti-communist witch-hunt that would last for the next 20 years. After first branding New Deal supporters as reds, he ended up calling the President himself a communist.
In response, liberals and leftists declared a boycott of Hearst newspapers. Increasingly notorious, often called an ally of Hitler and Mussolini, Hearst became a liability to his business. As ad sales and circulation declined, his empire crashed. In the late 1930s, as millions in debt came due, creditors seized control of Hearst's media properties.
He would rebound. America's entry into World War II, which Hearst opposed, helped revive his newspapers, and by 1945 the octogenarian had reclaimed control of a much-reduced empire. But he lived only six years longer.
The Chief leaves many of the puzzles in Hearst's life unsolved. What to make of the leftish politics that Hearst espoused in his youth and again in the early 1930s? Nasaw doesn't give much explanation other than to note that Hearst inherited a maverick streak from his father. As for the switch to Republican conservatism, Nasaw suggests that as Hearst became more beholden to creditors, he had to rein in his nonconformist instincts. But Hearst shifted rightward in the 1920s, back to the left in the early '30s, then far to the right beginning in the mid-'30s. Another explanation seems credible: Maybe these changes grew out of an unwillingness to share the spotlight. Since he could never stay pals for long with anyone, he was regularly driven to shift positions.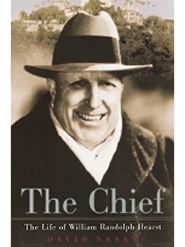 This consuming egotism suggests another perception about the man and his times. Press critic A.J. Liebling felt it was Hearst who first saw that "by using money like a heavy club," anyone could buy a position of public prominence. Perhaps that prominence became not a means to an end but the end itself. Reaching the zenith of his power in the age of the first media superstars--Charles Lindbergh, Charles Chaplin, Marion Davies--Hearst seemed to require his own bit of fame. His media empire gave that to him, then his bankruptcy and the growing power of such rivals as Henry Luce's Time-Life empire took it away. That loss must have been as painful as bankruptcy itself.
Before it's here, it's on the Bloomberg Terminal.
LEARN MORE