Movie Cameras Are Rolling Again...With Some Help From The State
Ernesto Rimoch is filming scenes of his new urban drama at La Maraka, a scruffy dance hall in Mexico City. The camera scans the background, where extras whirl under a glittering disco ball. Then it moves in on the leading lady and her older date. After four takes, Rimoch is done, and the lanky, bespectacled film producer and director, president of the independent producers' association, sits down to talk about the newly vibrant Mexican film scene. "In three or five years, we'll look back on this moment as a watershed," says Rimoch, 48. "A whole series of things are coming together that will allow this little movie-making boom to become permanent."
That kind of optimism is energizing the Mexican movie industry, which turned out more than 100 films a year in the 1940s and 1950s but fell into decline during the 1980s economic crisis. Filmmakers such as Rimoch are attracting private financing and international distributors who ensure wide play in the natural export market, Latin America. New cinemas, built since ticket prices were deregulated in the early 1990s, give space for Mexican movies to open on hundreds of screens. Growing marketing savvy draws millions of Mexican moviegoers, tickled to see themselves reflected on screen. "A public that had stopped going to see Mexican cinema is coming back," says Mario Aguinaga, promotions director for the state Mexican Cinematography Institute.
The new movies have mass appeal, often combining humor with wry comment on contemporary Mexico. Recently, La Ley de Herodes ("Herod's Law"), the story of a dim-witted functionary turned greedy politician, earned $4 million in a 14-week run. Todo el Poder ("Gimme Power"), a comedy about a Mexico City serial crime victim who takes revenge on corrupt cops, took in $6.8 million during its 12-week run.
Last year's hit, Sexo, Pudor y Lagrimas ("Sex, Shame, and Tears"), a yuppie comedy, was the proof the industry needed that Mexican films can make serious money. Sexo, which cost $1.4 million, took in $12.5 million, making it the third most successful film ever shown here, after Titanic and Disney's Tarzan. "We hadn't been taking care of audiences," says the film's producer, Matthias Ehrenberg, referring to the anti-Hollywood, intellectual pose many Mexican directors strike.
Private money is flowing into the industry. Carlos Slim, Latin America's richest man, last year joined with a partner to form Estudios Mexico Films, which will spend up to $6 million to make three to six movies a year. Todo el Poder was the first. "When the exhibitor sees you're a player, they open the space," says EMF chief Federico Gonzalez.
BIG BACKER. Although ticket prices average just $3, new cinemas with some 850 screens have been built since 1995. And thanks to a $16 million government fund earmarked for film production, the state is helping to back 15 films this year, compared with four in 1996. Along with privately financed films, around 20 should be released in 2000. "The industry will be producing 40 films a year within three years," says Ehrenberg. That won't make it another Hollywood, but it's enough to restore a proud Mexican art form.
Private funding for local movies is likely to grow, thanks to a law passed in late 1998. Once detailed regulations are in place, it will require 10% of screens to show Mexican releases. New tax regulations also speed up depreciation on production costs. However, the industry is still waiting for Congress to approve funding mandated by the new law. Public money will still be important to help provide seed money for new projects. "The most important thing is that there's production and that people see it--from movies like Sexo, Pudor y Lagrimas to the most disastrous commercial failure," says Rimoch.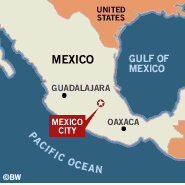 Even failures will get screen time, thanks to the Mexico City government. It recently forked over $9 million to buy four closed-down cinemas that the film community--producers, directors, actors, and technical unions--will operate in trust. The plan is to renovate the cinemas, creating 30 screening rooms for Mexican, European, and U.S. independent films. Meantime, the local government has taken more modest measures. Each Saturday night, it sets up a big screen in the city's central plaza and screens a movie--usually Mexican. The popcorn is free. Who can resist?
Before it's here, it's on the Bloomberg Terminal.
LEARN MORE