CATEGORY: GOLD
-- CULINARY ART CONCEPT
-- Designer: Philips Design for Philips Domestic Appliance & Personal Care
CATEGORY: GOLD
-- SATURNO
-- Designer: Emilio Ambasz & Associates for Ilva Pali Dalmine
CATEGORY: GOLD
-- CINEMA DISPLAY
-- Designer: Apple Computer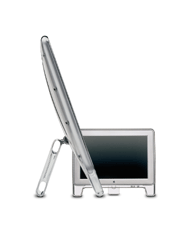 Philips won a Gold Award for its design conceptualization of culinary art of the future. The company focused not only on intelligent agents to help in the kitchen but also on new materials and forms. The transparent toaster is a perfect example of the growing trend toward clear products. While only a concept, the toaster is in sync with the very real Harmon/Kardon iSub woofer speaker for the iMac computer that won a Gold this year. Woofers are all about air, and the iSub reveals this in a glance. Price: $99.
The Apple Cinema Display takes the see-through trend to a new plane. The largest LCD screen yet (22-inch diagonal), it is sold for the G4 minitower. Thin and clear, it strengthens Apple Computer's new aesthetic.
Light, delicate, minimalist--and almost transparent--the SATURNO lighting poles designed by Emilio Ambasz also fit into the airy materiality that designers are moving toward. Although made of stainless steel, these streetlights, installed on the road between Rome and the airport, take up little space or mass. Price: $170 to $450 for the poles.
Before it's here, it's on the Bloomberg Terminal.
LEARN MORE