Green Tree: No Money Grows Here
Green Tree is a $7.6 billion disaster for Conseco
When Conseco Inc. Chief Executive Stephen C. Hilbert paid top dollar to buy Green Tree Financial Corp. for $7.6 billion in April, 1998, he hailed it as the deal of a lifetime. Melding Conseco's life insurance business with Green Tree's subprime lending operation, he bragged, was as significant as the Travelers-Citicorp tieup the same year. But while Citigroup is still going strong, Conseco can't dump Green Tree fast enough.
It wasn't always so. For the past two years, Hilbert has assured Wall Street that Green Tree was Conseco's growth engine and doing well. As recently as Mar. 7, he was still insisting that all was great at Conseco, one of America's largest insurance and consumer finance companies. In a press release that day, he said Conseco's "healthy operating performance trends" in 1999 were "continuing into the first quarter of 2000."
Yet just three weeks later, Hilbert was singing a very different tune. On Mar. 31, he announced an estimated $350 million aftertax charge to 1999 earnings at the Green Tree division, citing significantly higher-than-expected loan losses. Green Tree, the largest subprime and mobile-home lender in the country, was promptly put on the block again. Even worse, auditor PricewaterhouseCoopers refused to sign off on Conseco's 1999 annual report. Wall Street was not pleased: The stock plummeted 41% in the ensuing three trading sessions, to 8 1/4 on Apr. 5.
The share price slide may be giving Conseco execs sleepless nights. Many were lent money from Bank of America and Chase Manhattan Corp. to buy Conseco stock, mostly in the $35 range (BW--Mar. 20). Now, the top 10 execs are more than $370 million under water.
Even those losses may be a drop in the bucket. Many analysts are skeptical that Hilbert will ever find a buyer for the cash-burning Green Tree. For one thing, some figure that both the parent company and Green Tree are so heavily leveraged that they could soon face severe liquidity problems. This year alone, they have to repay $2.3 billion of debt.
DEFAULT COMING? Once, Conseco routinely issued new bonds to pay back the old. But with Conseco's plummeting stock and Green Tree's writedowns, investors and underwriters may balk at buying or issuing Conseco bonds except on very generous terms. "At the very least, it squeezes profitability margins. At the worst, they go into default," warns Kathy Shanley, an analyst at Gimme Credit, a corporate bond research firm in Chicago.
But even if Conseco gets through this year without going through a serious credit crunch, more trouble lies ahead. The company's debt currently tops $7.6 billion, which is more than double what it had before it bought Green Tree. Salomon Smith Barney analyst Colin Devine estimates Conseco's current total debt-to-capital ratio at about 53%, vs. 40% on average for the life insurance industry, which is the business Conseco will be in after selling Green Tree. Devine predicts that even with a successful sale, which he thinks could bring in a maximum of $2 billion, Conseco will still be heavily overleveraged. "Despite any market speculation to the contrary, there will be no money [left after the sale] for share repurchase or acquisitions," he says.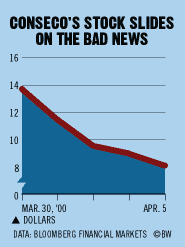 Worse yet, some fear that Conseco will never find a buyer for Green Tree. The subprime lending market has been cluttered with companies that have gone belly-up. Others have simply closed up shop, as in the case of Associates First Capital Corp. At the very least, Conseco may have to forgive a substantial portion of that debt in order to make it salable.
That's not very palatable for Hilbert. He's hoping to find a buyer willing to pay back the $2.5 billion that Conseco has lent Green Tree over the past two years. He hasn't yet faced the possibility publicly that instead of paralleling Citigroup, his deal is turning out to be more like the 1997 CUC International Inc. and HFS Inc. hookup, which almost destroyed the merged company.
Before it's here, it's on the Bloomberg Terminal.
LEARN MORE