Your Lender Can Bank On You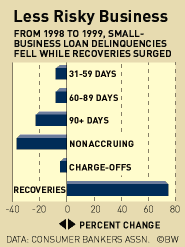 Do you need a bigger credit line from your banker? You now have some new data to help you present a convincing case. According to research from the Consumer Bankers Assn., the rate of small-business loan delinquencies declined sharply from 1998 to 1999 (chart). That's something of a surprise for Kathleen McClave, the researcher at Tillinghast-Towers Perrin who headed the study. With banks increasing their small-business loan volume by 24% over the period, she expected to find more delinquencies, not less. The low rate, McClave says, "reflects the fact that the economy is good and small business is growing."
Before it's here, it's on the Bloomberg Terminal.
LEARN MORE