Such Busy Bees In B2 B
Operators of online exchanges are scrambling to make deals
Sanjiv S. Sidhu didn't set out to do the biggest deal ever to hit the software industry. The founder and chief executive of i2 Technologies Inc. just wanted to acquire a small software company, Supplybase Inc. But when Sidhu learned Aspect Development Inc. also wanted Supplybase, he decided to buy both. Even though Sidhu was criss-crossing the country to finalize a strategic alliance with IBM Corp. and Ariba Inc., it took only 10 days for the $9.3 billion all-stock deal to progress from initial handshake to public announcement on Mar. 13. "I celebrated by taking a plane back to Dallas and sleeping the whole way," says Sidhu.
Such frenetic dealmaking has propelled Irving (Tex.)-based i2 into one of the top suppliers of software for the booming business-to-business (B2B) electronic-marketplace arena. Even better, the little-known company can now challenge far bigger and more established players like Oracle Corp. and Germany's SAP in that fast-growing market.
That's because the deals help i2 build on its strengths as the leading provider of supply-chain management software. Already, the company's products enable manufacturers to synchronize parts orders and delivery with production. Now, with Aspect Development under its roof, i2 is adding a database of 17 million parts as well as software that helps designers pick parts for new products. And the IBM partnership will provide a showcase for i2's cyberbazaar software.
While still young, the market for online exchanges holds vast potential. With cybermarkets evolving from simple hubs into collaborative sites for design and development, they could handle $2.4 trillion in transactions in 2003, up from $333 billion this year, says AMR Research Inc. of Boston. "It's the next industrial revolution," gushes Sidhu, 43.
NOT WORRIED. Why the deals binge? Unlike Oracle, which is building cyberexchanges based on proprietary software, Sidhu welcomes third-party vendors to its TradeMatrix marketplace, a Web site with links to online markets. "Alliances will allow i2 to dominate," says Forrester Research analyst Navi Radjou.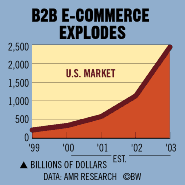 Still, execs at Oracle, the leading maker of database software, say they're not worried. With the purchase of Mountainview (Calif.)-based Aspect, Sidhu's company tallies about 4,000 employees and 2000 revenues of some $920 million, says James F. McNatt of Legg Mason Wood Walker Inc. in Baltimore. That's still tiny compared with Oracle, whose quarterly sales are twice the new i2's annual revenues. "Others might pioneer the business and have an 18-month or two-year head start. But we don't think we'll have much trouble catching up," says Oracle Chairman Lawrence J. Ellison.
All the same, market forces are driving Oracle to depart from its home-grown technology strategy. Last month, it partnered with Commerce One to set up an online exchange for the Big Three auto makers. And it's mulling acquisitions such as Agile Software to counter i2's strengths, says Forrester's Radjou.
That may soon mean another fast-paced industry consolidation--leaving Sidhu even less time for sleep.
Before it's here, it's on the Bloomberg Terminal.
LEARN MORE