Commentary: The Sage Has Some Explaining To Do
Warren E. Buffett's crystal ball might have developed a crack or two lately, but here's one call the Wizard of Omaha got right during a dismal 1999. Many months ago, Buffett decided to move the upcoming annual meeting of his company, Berkshire Hathaway Inc., to a larger hall in Omaha. It's a good thing he did because a record turnout is expected on Apr. 29 for what is certain to be one of the liveliest Berkshire gatherings ever. Since its shareholders last met, Berkshire's stock has dropped 41%--one of the worst stretches of Buffett's career. It is far too soon to conclude that the master's prowess has deserted him, but at this year's meeting he likely will face some pointed questions.
Buffett will have to explain for the umpteenth time that he does not buy tech stocks because he does not invest in what he does not understand. The fact is, Berkshire's chairman managed to compile his phenomenal 40-year investment record precisely by avoiding the new and amassing stock in depressed, old-fashioned companies. At this point, to blast Buffett, who turns 70 this year, for not owning Cisco Systems or Yahoo! is to wish that he were someone else entirely.
IS SILENCE GOLDEN? However, Buffett can be fairly called to task for his handling of two major investments: Coca-Cola Co., Berkshire's largest minority stock holding, and General Reinsurance Corp., the biggest of a series of acquisitions that in recent years have transformed Berkshire Hathaway from an investment portfolio in corporate drag to a bona fide operating company. The particulars differ, but each company's travails raise the same basic question: What price loyalty? Buffett's famously light managerial touch is crucial to his appeal to companies looking for a Big Daddy investor. But when things go seriously wrong, Buffett's deep attachment to the status quo can turn him into a passive observer while heavy damage is done to Berkshire's own share price.
Buffett amassed most of his 8.1% stake in Coca-Cola in its fizzless 1988-89 period at a cost of $1.3 billion, or $10 a share on average. Buffett, who went on Coke's board in 1989, has repeatedly said that he will never sell his shares in the company, which, with Gillette, American Express, and Washington Post, makes up what he calls Berkshire's "permanent portfolio." Until recently, Buffett's faith in Coca-Cola was indivisible from his admiration for its management. After Roberto C. Goizueta died in late 1997, Buffett transferred his unconditional support to his successor, M. Douglas Ivester. As recently as April, 1999, Buffett praised Ivester in public remarks in London: "Doug is as good as they've ever had."
Buffett's faith was rewarded with a capital gain that swelled to $15.7 billion when Coca-Cola stock hit a high of $87 a share in mid-1998. True to his word, Buffett did not sell a single share, even as the stock slid to $50, where it remains. Last December, long after the giant soft-drink maker had begun its decline, Ivester, 52, suddenly stepped down. Buffett has not commented on Ivester's abrupt resignation or his own role in it, but by all accounts his faith in Coca-Cola and its iconic brand is intact. Berkshire still has an $8.7 billion gain on its Coke stake--but that is $7 billion less than when the stock was at its peak.
In loading up on Coke a decade ago, Buffett acted on one of the definitive insights of his career: the recognition that Wall Street was grossly underestimating the intrinsic value of great consumer brands. By now, though, Buffett's view has been so thoroughly assimilated that it is cliche. It's distinctly possible that Coca-Cola will regain some of its stock market luster but highly unlikely that making incremental progress in a relatively mature market like soft drinks will ever again trigger investment returns of the magnitude that Buffett so brilliantly anticipated and helped catalyze.
In his 1995 biography, Buffett: An American Capitalist, Roger Lowenstein suggested that Buffett's till-death-do-us-part approach to favorite stocks was psychologically rooted: "He liked to keep things--stocks, `pals,' anything that lent a sense of permanence.... Hanging on was a metaphor for his life." Shareholders should ponder long and hard whether Buffett's commitment to Coca-Cola is a well-considered expression of the buy-and-hold philosophy that he espouses or an emotional attachment masquerading as investment discipline.
BLACK HOLE. Berkshire has even more at stake financially in the fate of General Reinsurance. Not only did Buffett pay $22 billion for the company (in 1998) but an insurer is a bottomless hole of potential underwriting loss. Once again, one can question whether Buffett's unflagging loyalty is harming Berkshire's shareholders.
Gen Re, the lone U.S. contender among the troika of giants that dominates global property and casualty reinsurance, is an elite, old-line company that long has been viewed as one of the best-managed of all American insurers. In his 1998 chairman's letter, Buffett praised Gen Re's management, concluding "there's a lot they can teach us." However, almost from the moment thatBerkshire Hathaway took control of Gen Re, one thing after another has gone wrong at the Stamford (Conn.) company. On Mar. 10, Gen Re was expected to report a fourth-quarter underwriting loss of at least $600 million, inflating the company's total loss for 1999 to $1.6 billion.
It should be noted that underwriting losses are routine--that is, payouts to policyholders frequently exceed new premiums received. Insurance companies aspire to break even on underwriting (achieving a so-called combined ratio of 100) and look to their investment portfolios for profit. But not in 1999, which will go down as one of the worst underwriting years ever. Heavy storm damage in Europe was partly to blame, but heedless price competition also took a fearsome toll.
Gen Re's combined ratio for 1999 is expected to top 125, a horrendous figure in light not only of the company's past performance but the industry average of 110 or so. These figures overstate the actual performance gap, since Gen Re has been more forthright in recognizing underwriting losses than have many insurers. And in a spectacular instance of bad luck, Gen Re took a $20 million loss when a Westchester County mansion built by singer Mariah Carey and ex-husband Tommy Mottola burned to the ground late last year in the costliest house fire in U.S. history.
Even so, many of Gen Re's problems are of its own making. Most important, its management appears to have lost cohesion since the sale to Berkshire Hathaway. Ronald E. Ferguson, Gen Re's longtime chief executive, is known for his consensus-building, conciliatory style: He runs the company through a six-person office of the chairman. And yet Ferguson outraged many of his colleagues by keeping his negotiations with Berkshire secret from all but one of them until just before the deal was announced.
Ferguson might have anticipated opposition, in part because of Buffett's well-advertised opposition to the use of stock options as an executive incentive. James Gustafson, General Reinsurance's president and chief operating officer, promptly resigned, and sources say that a number of other senior executives aspire now to nothing more than retirement.
WINTER REBOUND. By most accounts, the executive suite strife undermined Gen Re's underwriting performance. Alice D. Schroeder, a PaineWebber Inc. insurance analyst who closely tracks Berkshire, says that throughout much of 1999 "the marching orders to the company's underwriters were not entirely clear." As a result, Gen Re "lost its pricing discipline, writing unprofitable business just to maintain client relationships." Buffett is also said to be displeased that Ferguson still has not replaced Gustafson nor completely assimilated Cologne Reinsurance, which it acquired in 1994. Even so, Buffett has not intervened other than to try to nudge Gen Re executives in the direction he wants them to go by peppering them with questions from Omaha.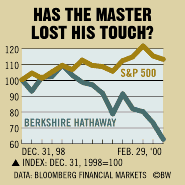 In insurance, underwriting results are a lagging indicator. Prices in many P&C lines have rebounded sharply in the first two months of 2000. By the time Berkshire Hathaway's annual meeting rolls around, Buffett might be able to offer his shareholders evidence of improvement at General Reinsurance. But let us hope that before Berkshire's latest "Woodstock for capitalists" ends with its customary mass love-in, a shareholder or two has the temerity to rise and ask Buffett what, in fact, he has learned about his own limitations from the annus horribilis that was 1999.
Before it's here, it's on the Bloomberg Terminal.
LEARN MORE