A New Passport For Pets...Has Kennel Owners Howling
There's a whole new breed of travelers on the Eurotunnel car-train service connecting Britain and France. With a special check-in lane at the Calais terminal and strategically positioned tree-planted areas, it's obvious there are changes afoot. Or rather, a-paw--the new clients being all four-legged. Britain's abolition of a century-old law on Feb. 28 means that pet dogs and cats can cross its borders from Europe without the six-month quarantine designed to keep the island of animal lovers rabies-free.
The new facilities will get plenty of use. Up to 250,000 pets are expected to travel each year, each having been implanted with a microchip and then vaccinated. They will include guide dogs accompanying blind travellers, pets returning home with their army owners after an overseas posting, and even British dogs going on a family wine-tasting tour in France. Not to mention the thousands sitting out an overseas exile with their soft-hearted owners.
BAR CODES. On the day the rules changed, Jippy and Matisse were among the first to flash their doggie "passports" in Calais. The two labradors' owner, Englishwoman Chris Thouvay, has stayed on in France for two years while her French husband Phillipe worked in England. "I couldn't make them go through six months in a cage," she says, almost crying as she stood by her car. She hands an official the wad of documents needed under the new regulations. As a scanner is passed over each dog, their microchip numbers flash up like the bar codes of products in a supermarket. The process costs owners about $235 per pet, a tenth the cost of quarantine.
"At last we have moved with modern science and have a system worthy of our country," says Mary Fretwell, the tireless founder of London pressure group Passports for Pets. She and her 10,000 members have spent the last six years battling a "cruel and outdated" quarantine system that persisted even though scientists, including a renowned rabies expert, said the vaccination and microchip scheme would be just as effective. Resistance came from politicians wary of fanning mass hysteria in Britain about rabies entering the country, and from British vets, some of whom have interests in quarantine kennels. But persistence paid off in late 1999, when the Labour government announced final details of the scheme.
The current pilot program will be extended to rabies-free islands such as Australia and Hawaii next year and might later include animals coming from North America. More authorized transport operators, including airlines, will be added to the Chunnel trains and the handful of ferry lines between Britain and France.
By a neat twist, the government has passed on the cost of enforcement to the transport operators--who aren't complaining. Not only are they charging $47 for a round-trip pet ticket but they'll be cashing in on the tens of thousands of new customers who will travel now that they can take their pets. "We are running a business, and we have to take as many opportunities as possible," says Bill Dix, managing director of Eurotunnel Shuttle Services, adding that it is opening a store selling equipment from pet carriers to leashes. Agrees Bill Gibbons, director of the Passenger Shipping Assn. trade group: "In three years, taking a dog abroad will be as natural as taking Granny."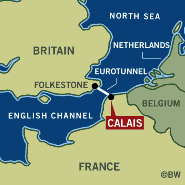 That's fine for Fido, but owners of the 80 quarantine kennels in Britain are wondering how they can keep their doors open. Quarantine Assn. Chairman Michael Wykeham says their current revenues of about $25 million will be halved under the new scheme. And if the government includes animals arriving from North America, kennel owners will lose a "catastrophic" 75% of their business. "Most kennels will fold, leaving only a dozen of the larger ones operating," he says. For him, that justifies the $54 million compensation claim kennel owners plan to lodge in the courts later this year. The government says they don't have a case.
Only the enterprising few have an assured future. A stone's throw from Heathrow airport, Willowslea Farm Kennels has a flourishing pet-travel business and will use its large installations more for those needing a layover. It will also pick up business from pets delayed because their owners haven't completed the complicated paperwork. Kennel owners figure up to a third of animals trying to enter could suffer that fate--so not all tails will be wagging at the border.
Before it's here, it's on the Bloomberg Terminal.
LEARN MORE