Ready To Rock At Comdisco
Comdisco (CDO) is on the move. Shares of the tech-services company bolted from 18 a share in August to 34 by Jan. 12. What's going on? Two things: Some pros expect Comdisco to hasten the timing of the initial public offering it plans for its Prism Communications unit--a high-speed Internet access provider--to early March. And the board-approved creation of a tracking stock for its Comdisco Ventures unit, which invests in venture capital-backed companies, including budding Internet outfits, could also come earlier.
"Hidden value exists in the Ventures unit, with its numerous ownership stakes in many private high-tech companies," says Michael Grondahl, an analyst at U.S. Bancorp Piper Jaffray, who thinks Comdisco is worth 55 a share based on the estimated worth of both Ventures Group and Prism. He figures Prism and Ventures are each worth $2 billion to $3 billion. Nortel Networks and Williams Communications have each invested $10 million in Prism for 1% stakes.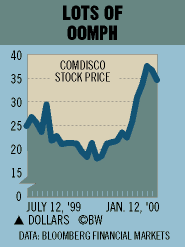 Grondahl expects to see a lot of oomph in Comdisco shares, especially in the period before the Prism IPO is launched and the Ventures tracking stock is off the ground. Ventures currently has 12 companies in its portfolio that have applied to go public. Ventures' investments have been making good money. As of Dec. 31, 1999, the Ventures unit held equity stakes in 425 companies, 65 of which are publicly traded and 360 privately held. The value of its publicly held companies, which include such names as NextCard, E.piphany, and Critical Path, has jumped to $400 million, from $194 million in September.
Grondahl says Comdisco deserves a higher p-e ratio to reflect its blended earnings from leasing and tech services. He expects Comdisco, which has a $1 billion backlog in the tech-service business, to earn $1.85 a share this year. He rates the stock a "strong buy."
Before it's here, it's on the Bloomberg Terminal.
LEARN MORE