Havana's Dance With The Dollar
Walking on cobblestones by magnificently restored Spanish colonial palaces and a cathedral, I come upon a plaza dotted with a dozen tables. Tourists sip cocktails. A salsa band plays, and hips sway. A voluptuous tarot card reader dressed in African garb dashes across the plaza and gyrates to the music. A Spanish tourist joins her, shouting to his companions to snap a picture.
Havana is hot these days. The U.S. government forbids Americans to come here, but that doesn't stop others--some 1.7 million each year. Most come for inexpensive beach vacations at fast-growing resorts such as Varadero and take day trips into Havana to tour cigar factories and see the famous show at the Tropicana nightclub. Many want to see what the land of Fidel Castro looks like 41 years after the revolution and before Castro, now 72, is gone.
Few are disappointed. Central Havana has had almost no new construction since the revolution, so the crumbling facades offer the vision of a city frozen in time. The streets are filled with DeSotos and other shark-finned cruisers from the 1950s, now taxis. Old Havana is undergoing a major restoration, financed by the U.N., international development banks, and foreign investors. Dozens of colonial buildings are being restored. Luxury hotels, restaurants, museums, and even a Bennetton shop are opening. The din of power saws and jackhammers conveys optimism, a sense that in its booming tourism industry, Cubans--some, anyway--may have found a way to prosper after decades of economic adversity. Castro's challenge is to make sure that better wages and living standards trickle down to all, not just to the lucky few who work in tourism.
If you speak Spanish and talk to ordinary Cubans, you realize the money flowing into Old Havana and Varadero isn't helping everyone. I ask a taxi driver how things are. He complains of his low wage, the lack of consumer goods, his envy of neighbors whose exiled relatives send money. Things are so bad, says a former Air Force pilot, that he agreed to let his ex-wife take their 8-year-old son to Spain, where there are more opportunities. His eyes brim with tears as he wonders if he'll ever see him again. "Life here can be cruel," he mutters bitterly. Just a few weeks later, a diplomatic tug-of-war broke out over Elian Gonzales, 6, the boy found floating on an inner tube off the Florida coast after his mother died trying to leave Cuba.
LEFT BEHIND. Indeed, Alicia Marilis Crespo Abreu, 22, a museum guard, was abandoned as a toddler along with five siblings when her parents fled Cuba in the 1980 Mariel boat exodus. Her parents live in Virginia now and haven't contacted her in years. She struggles to support her family and dreams of getting a coveted job in tourism so she can earn dollar tips. Alicia, like most Cubans, earns just 200 pesos, or about $20 dollars, a month. But a tourism job could bring $100 a month in tips alone. So mathematicians, doctors, pilots, and marketing executives compete for positions as cabbies, waiters, and hotel workers. Many young women turn to prostitution. A few years ago, Havana's tourist districts were full of young girls trolling for visitors' dollars, but Castro cracked down, and prostitution is less visible today.
Communist Cuba has become a two-tier society instead of the egalitarian community Castro promised. The divisions date back to 1990, when the Soviet Union collapsed and ended its multi-billion-dollar subsidies. Cuba fell short of hard currency, and Cubans began living in what they call "the special period." Food, clothing, and basic household supplies such as soap and cooking oil were scarce. An artist recalls that he and his wife picked grapefruit from a backyard tree and squeezed the juice to wash their clothes. "It didn't clean very well, but it freshened up the clothes a little," he says.
In 1993, Castro made it legal for relatives in Cuba to accept dollars from gusanos, or worms--Cubans who fled to the U.S. after the revolution. The U.S. allows exiles to send up to $1,200 a year to family members still in Cuba. Cubans use the greenbacks to buy gasoline and food to supplement their meager monthly rations. Around 1 million state workers with jobs in industries that generate export revenue, such as fishing and nickel mining, receive hard-currency bonuses to improve productivity and reduce pilfering.
"DOLLARIZED." But those with no access to dollars must do without extras. That has led to much resentment and more than a little graft. Once, when I was riding in a private car, the driver stopped for gas, and the attendant charged him half-price to fill the tank. "He does favors for me because I let him come over and watch U.S. sports games on my UHF antenna," he said. Antennas that tune in broadcasts from Florida, 145 km away, are banned by a government that closely controls information. Anyone caught with a UHF antenna will have it confiscated and can be fined 10 months' wages.
Economist Elena Alvarez, director of the government's National Institute of Economic Research, says a decision to partially open the economy to foreign investment is beginning to pay off. Manufacturing grew more than 6% in 1999. Five years ago, the tourism industry had to import 80% of its supplies; today, local industry produces one-half of what's needed--everything from fruit jams to bedsheets. More than 160,000 independent businesspeople run their own hairdressing salons, shoe-repair booths, and small restaurants. They also must pay taxes. When the Soviet subsidies ended, the Cuban government began dismantling huge steel, textile, and fishing companies, replacing them with smaller, more efficient "corporate groups" that are expected to turn a profit without subsidies. "Little by little, the economy has become dollarized and more efficient," says Alvarez.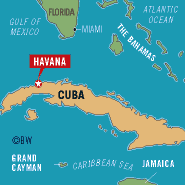 Even as Cuba's economy modernizes, the colonial charm and Latin sizzle fueling this tourism boom remain intact. One Friday evening, I walk through the darkened streets of Central Havana with architect Fernando O'Reilly, who designed the sets for the award-winning Cuban film Strawberry and Chocolate. The movie, which chronicles antigay discrimination in Cuba through the lives of two young men living in a tenement, was filmed in a rooming house on Calle Concordia. Fernando decorated the rooms, now turned into La Guarida, a privately owned restaurant. As we walk there, I glance through the open windows of homes: Everyone seems to be watching the latest Colombian soap opera on flickering old TV sets. Salsa music blares from windows, and couples neck in darkened doorways. Reaching the rooming house, we are greeted by dozens of cloth diapers flapping from a clothesline that spans the grand Carrara marble entrance hall. "People love coming here," says Rogelio Nunez, the owner's father. "They feel like they're in the movie. And they say it's unique." Many visitors also sense that the next few years may be the last chance to see the "real" Cuba before Castro leaves the scene, perhaps paving the way for a complete capitalist makeover.
Before it's here, it's on the Bloomberg Terminal.
LEARN MORE