Hauppauge Clicks In Pc Video Gear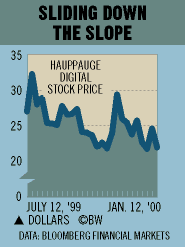 When the stock of Hauppauge Digital (HAUP) skidded 22%, to 20 a share, in mid-November--down 47% from its 52-week high--just one month after he had rated it a buy, Joel Krasner of FAC/Equities was unfazed. He upgraded his call to a "strong buy," confident that the drop had nothing to do with fundamentals. Hauppauge makes video products for PCs, and Krasner thinks the stock is a bargain at its current 22, based on his diluted earnings estimates of 85 cents a share for 1999 and $1.13 in 2001. After checking with Best Buy and Circuit City Stores about Hauppauge's fast-selling product, WinTV boards, Krasner reckons the company will beat expectations in the first quarter of 2000. WinTV boards let PC users watch TV in a window on their video monitors while using their computers. "As the largest independent player in video products for PCs, Hauppauge is an attractive takeover prey," says Krasner. He suspects a major PC maker has approached Hauppauge. The company was first featured in this column in May, 1999, when it was trading at 12. It streaked to 38 by May 24. "That's where the stock is now headed," he says.
Before it's here, it's on the Bloomberg Terminal.
LEARN MORE