U.S.: Any Way You Figure, Wage Growth Should Speed Up
With a galloping economy, the challenge will be to rein in labor costs
Here's a quick quiz: The cost of labor to employers is growing at what rate: (a) 4.6%, (b) 3.5%, or (c) 3%? Before you pick your final answer, you may want to use one of your lifelines and call the Labor Dept. The agency's three measures of compensation show three different growth rates. Which one truly captures what's going on in human-resource departments around the U.S. could determine to a large extent the outlook for profits, inflation, and Federal Reserve policy in 2000.
The data aren't meant to be puzzling. Each indicator measures specific jobs and labor costs. Average hourly earnings, up 3.5% from a year ago, only cover pay for nonsupervisory workers in the private, nonfarm sector. But since this measurement is monthly and included in the employment report, it has become a prime focus for Wall Street. News that this gauge rose a slim 0.1% in November, despite a strong 234,000 increase in November payrolls, helped to power big rallies in both stocks and bonds on Dec. 3, including a 247-point jump in the Dow Jones industrial average.
The other two measures are quarterly, cover both wages and benefits, and include all workers. However, the employment cost index, up 3% over the past year, neglects increasingly prevalent perks such as signing bonuses and exercised stock options. Those are included in the compensation data in Labor's productivity report, as are self-employed workers. But none of the measures include perks such as unexercised stock options or flex-time, which can have a cost to employers.
Not surprisingly, the most encompassing measure, the productivity gauge, shows the fastest growth: 4.6%. This indicator has increasingly occupied the attention of Fed Chairman Alan Greenspan, who not so long ago had expressed a clear preference for the employment cost index.
The three gauges are growing at very different rates. But they all peaked in the middle of 1998 (chart), and a key question for the labor-cost outlook involves the cause of the slowdown in compensation growth from last year. Many economists believe that the sharp energy-led drop in overall consumer inflation following the Asian crisis, from a peak of 3.2% in late-1996 to a trough of 1.4% in early 1998, temporarily altered the wage-setting process. In a lagged response, both employers and employees built expectations of lower inflation into their salary increases and pay demands. Also, explicit cost-of-living adjustments shrank.
If that's true, then the situation is now reversing. Driven by the energy-price turnaround, fueled mainly by the recovery in global demand, consumer inflation over the past year has risen to 2.6% from 1.4%, and not all of the recent oil-price surge has filtered into the consumer price index. With a lagged reaction, wage growth is very likely to reaccelerate next year as this process turns around. In the most recent six months, both the monthly wage data and the quarterly employment cost index suggest that the slowdown has already ended.
So far, the wage slowdown, in addition to impressive gains in productivity, has helped businesses to control their labor costs. The latest revised data say that output per hour worked in the third quarter soared at a 4.9% annual rate, the biggest jump in seven years. As a result, even with the gains in compensation, unit labor costs fell 0.2%. Keep in mind, though, that productivity rose only 0.6% in the second quarter. The average is closer to the annual trend of about 3% (chart).
Next year, can business continue to rely on efficiency gains to offset higher pay? That depends on how much labor costs accelerate. Right now, at least some speedup seems very likely. The latest data on job growth, home sales, store sales, and factory activity suggest that the economy is growing at an annual rate of greater than 4% in the fourth quarter. That rapid advance is generating jobs at a pace that will eventually push the unemployment rate, already at a tight 4.1%, down even lower.
Businesses will then have to continue to offer generous compensation packages to hire skilled workers, and more important, companies may begin to feel the need to increase pay raises to retain existing employees. Companies have avoided those across-the-board raises, but soon they may have no choice. For its part, the Fed hopes to curtail economic growth soon enough that faster wage growth does not trigger price increases. That's why hopes that the Fed is done hiking interest rates may only be wishful thinking.
Certainly, the November employment report shows no loosening in the labor markets as 1999 draws to a close. Nonfarm payrolls grew by 234,000, with large gains in construction, business services, and transportation. The rate of participation in the labor force remained at a near-record 67%, and the number of unemployed people interested in working, although up slightly last month, continued to trend down. That pool of available workers is the sum of working-age unemployed who are looking for work or say they want a job, and it is the Fed's new statistical darling used to measure labor availability. As long as it continues to shrink, pressure on wages will grow more intense.
The continuing exception to labor-market tightness is the manufacturing sector. Another 2,000 factory workers were let go in November, bringing the total number of layoffs to 533,000 since factory payrolls peaked in the expansion in March 1998 (chart).
Last year, the layoffs appeared to be the result of the export slump. The current round of pink slips, though, runs counter to the good news found in other factory reports. Manufacturers are busy trying to build up their inventories. Stock levels grew 0.3% in both September and October. And although factory orders dipped a small 0.2% in October, bookings are likely to pick up when retailers restock their shelves after what is shaping up to be a very successful holiday shopping season. Both LJR Redbook Research and the BTM/Schroder retail surveys report that stores rang up very strong sales in the first week of December.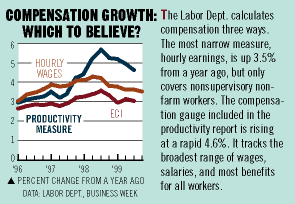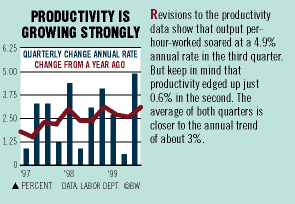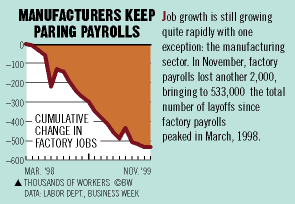 Consumers aren't just buying stocking stuffers, though. Demand for housing also remains strong. New single-family home sales jumped a stunning 16.3% in October, to a record 986,000 annual rate. In addition, a survey of builders showed an increase in sales in November. Little wonder, then, that last month's increase in construction jobs was the largest jump since February. More home sales equal fatter construction payrolls.
That's a simple example of how strong demand is driving the job markets. How much longer can the economy gallop along before the need for workers causes a pickup in wage growth? That may not be the million-dollar question, but it's clearly the challenge facing the Fed heading into the New Year.
Before it's here, it's on the Bloomberg Terminal.
LEARN MORE