Rebuilding Asia
With new growth come the first signs of a radically altered economy
After the initial shock comes denial, goes the old saying. Then comes acceptance. As East Asia continues to sift through the wreckage of one of the greatest financial collapses since the Great Depression, there finally are signs that the foundations of a new Asian economy are starting to rise. China's decision to lower trade barriers in order to enter the World Trade Organization and revitalize its economy is part of a liberalization trend sweeping the region.
True, progress is halting--and the embattled insiders of old Asia are fighting to hang on. But this isn't the retreat from globalization that some pundits predicted a year ago. Indeed, step back from the Indonesian banking scandals, the frustrating Korean corporate workouts, and the Malaysian anti-West diatribes, and the panorama is impressive.
For the first time since the region's takeoff in the 1960s, industrial giants are focusing on profits rather than new output records. Once-mighty conglomerates are breaking up. Banks, once merely conduits for funneling Asia's high savings to favored companies, are having to become more sophisticated. Governments long obsessed with pumped-up statistics are focusing more on basic social needs. And they are looking inward, toward domestic consumers, to find new engines of growth in service industries and e-commerce.
Sobering economic realities, more so than reforms pushed by politicians and the International Monetary Fund, are driving these changes. Chief among them is the region's shattered financial system. The 3% of gross national product the U.S. paid to fix its savings and loans in the 1980s pales in comparison with the 15% of GDP it will cost South Korea to clear bad loans, which some analysts believe exceed $95 billion. Deutsche Bank puts the cleanup bill at 50% of GDP in Indonesia and 56% in Thailand. What's more, "the S&Ls were peripheral to America's economy," notes PricewaterhouseCoopers Asia real estate debt workout specialist Ronald F. Greenspan. "In Asia, the affected banks were at the very center."
"GREAT RISKS." Tighter credit will make it harder for the old workhorses of Asian growth--big industrial conglomerates--to carry the region into the 21st century. Foreign creditors aren't eager to help. Having lost some $350 billion in East Asia since 1997, they may yank out another $24 billion in 2000, says Washington's Institute of International Finance Inc. Worries Moody's Investors Services analyst Thomas J. Byrne: "There are great risks to the sustainability of the recovery."
That may seem pessimistic. In Thailand, where growth is expected to be 5.5% in the fourth quarter, seemingly dead mass transit projects are being resuscitated. In Korea, growth in the fourth quarter is expected to hit 12%. But as pent-up consumer demand becomes sated and governments start running low on funds to prime the pump with deficit spending, the pace should slow again by the end of 2000. To return even to a steady 4% to 6% growth will require an overhaul of economic models that produced astounding results for three decades. Just as the fall of the Berlin Wall marked Europe's new beginning, the Asian cataclysm sparked by the July 2, 1997, crash of the Thai baht is shaping up as a milestone from which there is no turning back.
Consider Korea. Daewoo's dismemberment, though incomplete, has shown that no company is too big to fail. The sale of Korea First Bank to a U.S. private equity firm will set off sweeping changes in the financial system. Foreign investors have bought the story. They poured a record $10.2 billion direct investment into Korea in this year's first 10 months.
And investors' opinions now matter more than ever. Just ask Park Se Yong, who oversees Hyundai Group restructuring. He and other execs are criss-crossing the globe to convince financiers that the Korean industrial giant is not another Daewoo. There is indeed good news. With the Korean economy now charging out of a harrowing 5.8% contraction in 1998, consumers are snapping up Hyundai Motor Co.'s new $11,000 EF Sonata sedans. Rising prices for memory chips have been a boon for Hyundai Electronics, the world's biggest producer. And a rebound in stock markets has enabled the group to raise $6.5 billion in new equity since January.
BYE BYE, CHAEBOL. But Hyundai's old world is being swept away. A reformist government has helped cut the chaebol's once limitless supply of soft bank loans. Majority stakes in steel, oil-refining, aluminum, rolling stock, and chemical plants--all cherished assets that helped symbolize the group's power during Korea's go-go decades--are among dozens of units that have been sold. Financial and managerial barriers are rising between the remaining businesses. Within three years, "we will no longer be a chaebol," says Park. "In my 32 years with Hyundai, I never thought I would see this."
In troubled Indonesia, the election of President Abdurrahman Wahid offers a chance to rebuild confidence. Thailand has enacted sweep- ing legal changes, including a bankruptcy law and more liberal foreign investment rules. The central bank is setting up firewalls between banks and the other businesses of their owners. "A structure for better corporate governance is not just about individual corporations," says Bank of Thailand Governor Chatu Mongol Sonakul. "It is about the system and the network that links them together."
But some conglomerates are getting the message. Siam Cement Public Co., buried under billions of dollars in foreign debt it could not repay in 1997, is in the midst of a three-year program to raise $1.5 billion by shedding one fifth of its assets. That should enable it to invest in core businesses such as petrochemicals. But CEO Chumpol Nalamlieng insists he won't again go overboard on export-oriented expansion. Instead, investment will be based on rigorous financial targets and domestic demand. "Three billion people [in Asia] cannot be producing and hoping that 500 million people in the rest of the world will absorb it forever," says Chumpol. "At some point, you have to start eating what you cook."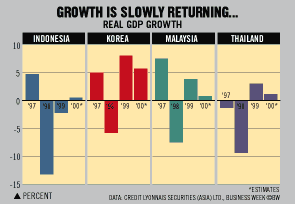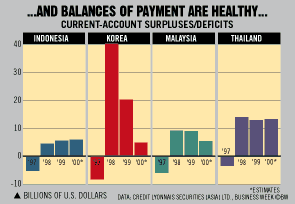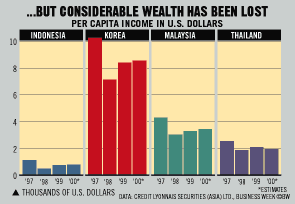 Asia is still choking on ill-conceived property and industrial projects cooked up during the bubble. But eventually, new investment will be needed to maintain growth. If capital is still scarce, Asia could face another crunch. That means pressures to develop a new growth formula will only get more intense.
Asia's Tigers can't change their stripes overnight. It took nearly two decades for America to lay the ground for its New Economy with corporate reengineering, government budget fights, and technology investment. For Asia, that journey is just beginning.
Before it's here, it's on the Bloomberg Terminal.
LEARN MORE