Peru: Growth That Feels Like A Recession
After nearly two years in the doldrums, Peru is starting to claw its way back. But the road to full recovery from the triple whammy of the Russian, Asian, and El Nino crises will be slow and uneven.
Production figures this year have been volatile, but real gross domestic product is up 2.1% for the first nine months, compared with 1998's meager 0.3%. The government estimates GDP growth of 3% this year, though investment bankers say 2.5% looks more likely. While output of export-oriented sectors such as mining grew 11.6% in the first nine months, construction is down and manufacturing flat. And with credit tight and domestic demand falling, company bankruptcies and banks' bad-loan portfolios have shot up. Also, the recovery has been dogged by weaker-than-expected commodity prices.
For most Peruvians, positive GDP figures belie the fact that this looks and feels like a deep recession, and business groups are questioning the accuracy of government statistics. On the plus side, inflation is at a low 3.7% (chart), and weak demand has cut imports, helping to close the current-account deficit to an expected 3.9% of GDP in 1999, vs. 6% last year.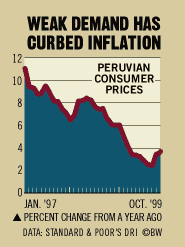 Yet, falling tax receipts mean 1999 will be the first time that President Alberto Fujimori's administration turns in a primary fiscal deficit. Analysts expect a gap of around 0.5%. Presidential and general elections in April, 2000, complicate the outlook. Fujimori is expected to seek a third term, and so public spending has increased this year--by 9.5% in the second quarter from the year before. Investment bank analysts are concerned that public funds may be frittered away on handouts and not channeled to projects such as road-building that could enhance demand. Moreover, privatization is expected to raise only half the $800 million projected by the government this year.
Difficulties aside, Peru is still growing faster than most of its neighbors in Latin America. And growth should reach 4% in 2000.
Before it's here, it's on the Bloomberg Terminal.
LEARN MORE