Kiss That Tax Shelter Goodbye?
The courts crack down on egregious corporate tax avoidance
Earlier this year, promoters of tax shelters and their corporate clients were gearing up to defend their turf against a legislative assault. The Clinton Administration and Hill Democrats were trying to crack down on transactions done solely to avoid taxes.
Thanks to a lobbying blitz by accounting firms and investment bankers, the bills are going nowhere. But while they were focusing on Congress, the tax-shelter crowd got blindsided from a different direction. In the past two months alone, the Internal Revenue Service has scored at least five big wins in federal Tax Court. Judges have torpedoed deals by such corporate heavyweights as Compaq Computer, Winn-Dixie Stores, United Parcel Service, and The Limited.
The rulings have left tax professionals stunned--and could dramatically slow future schemes to shield earnings. "The tax court is very, very tough on shelters right now," says Clint Stretch, partner at accountants Deloitte & Touche. "It will make people more careful."
BRAZEN. For years, the IRS has been making the same argument: Transactions done only to avoid taxes and which serve no legitimate business purpose should be shut down. Until recently, though, the courts have been reluctant to buy the argument. But suddenly, judges seem to have lost patience with the proliferation and brazenness of shelter schemes. Compaq, for instance, got clobbered for a deal in which it bought and sold the same securities within one hour to get a $3.4 million foreign tax credit. The deal was essentially fully hedged and carried neither market risk nor opportunity for profit. Chief Tax Court Judge Mary Ann Cohen not only denied the credit, she hit Compaq with a 20% penalty.
Winn-Dixie tried to cut its tax liabilities by purchasing whole-life insurance policies in the name of thousands of employees--then borrowing against the cash balances and deducting the $3.8 million in interest on the loan. UPS shuffled $67 million in income to a Bermuda subsidiary. Other shelters are variations on the same theme: Produce capital losses to offset prior gains, generate deductible interest expenses, or defer income from one year to the next.
Why is the IRS winning now? In part, because much more aggressive shelter deals--first done in the early '90s--are just now getting to court. While no one can adequately estimate the size of the problem, industry officials concede that companies have been pushing the envelope. As a result, corporate taxes as a share of profits have fallen from 26.6% in 1994 to 21.8% in 1999 (chart). "A lot of the deals are premised on the fact that they won't be detected. Once they are, they just don't wash," says John E. Chapoton, a partner in the law firm Vinson & Elkins.
Despite a lack of money, the IRS says it will keep up its assault. Commissioner Charles O. Rossotti has established a working group to target shelters and vows to boost training to help auditors sort through the complex schemes. One red flag: companies with a large spread between the income they show to shareholders and what they report to the IRS.
HELP WANTED. But the Treasury Dept. insists that more aggressive IRS enforcement alone won't stop abuses. As a result, the Administration still wants a new law to curb tax-avoidance schemes. The case-by-case route is too cumbersome, says Acting Assistant Treasury Secretary for Tax Policy Jonathan Talisman: "It takes years and years to litigate these cases. It's always a game of catch-up." And it doesn't come cheap: "Taxpayers pay for this twice: first in lost revenue, second in the tremendous cost of law enforcement," adds House Ways & Means Committee member Lloyd Doggett (D-Tex.), who has proposed similar curbs on shelters.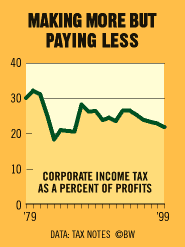 Some lawyers counter that rather than closing shelters, a statute runs the risk of reopening loopholes the courts have been closing. Others worry it would do little more than provide a new road map for circumventing the law. "Unless you do this exactly the right way, you risk losing more than you gain," insists Hank Gutman, a partner at accountant KPMG Peat Marwick, which is a creator and seller of tax shelters.
Although the Ways & Means Committee will hold a hearing on tax abuses on Nov. 11, anti-shelter legislation is essentially dead for 1999. But if courts keep ruling against the financial engineers, Congress may be the least of their problems.
Before it's here, it's on the Bloomberg Terminal.
LEARN MORE