Join The Globetrotters
More small businesses are hustling to export
With the internet shattering geographic boundaries, you may be thinking about selling abroad. If so, the timing is right. Foreign economies are starting to strengthen. The International Monetary Fund expects the world economy to expand by 3% this year, rising to 3.5% in 2000. Also, the U.S. dollar has weakened slightly, making exports a little cheaper in some markets.
During the first seven months of 1999, exports reached $545.7 billion, up $2.2 billion over the same period last year, according to the Commerce Dept.--with the service sector leading the way. While the government doesn't track exports by business size, there's little question that smaller companies are getting in on the action. One gauge: the steady growth in the value of loans guaranteed by the Small Business Administration's program for small exporters, up nearly 600% since its inception five years ago. Last year, the SBA guaranteed $159.1 million in loans, up 12% from 1997 (chart).
Small businesses are increasingly looking abroad to diversify, says Joseph Hartnett, director of international services at business consulting firm Grant Thornton. Right now activity is hottest in Europe, says Hartnett, led by small technology consulting firms, software companies, and suppliers to large retailers. Particularly, if the domestic market slows down, overseas markets can help you grow faster.
Consider this: In PricewaterhouseCoopers' most recent quarterly Trendsetter survey of fast-growing small businesses, companies that sell abroad said they expected their revenue growth to hold steady at 26.8% over the next 12 months, while domestic-only businesses projected a five-point decline, to 21.9%.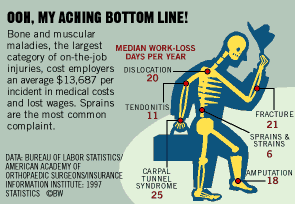 Of course, going global isn't right for everyone. It's expensive and time-consuming to scout out new turf, make contacts in foreign lands, and keep up with local regulations. Start by checking on the local competition in the market you're considering, recommends Hans Koehler, director of the Wharton Export Network at the Wharton School. To catch the attention of international prospects, try listing your services in a well-known directory, such as the Thomas Register of American Manufacturers (www.thomasregister.com). It's a wide world market out there; something might just click.
To learn more about how to sell in foreign markets, click Online Extras at frontier.businessweek.com
Before it's here, it's on the Bloomberg Terminal.
LEARN MORE