U.S: So Much For That Safety Valve
As exports rev up manufacturing, pressures on interest rates will rise
The global winds are shifting--and so is a key component in the economic outlook for the coming year.
Shock waves from the 1997 collapse of Asian economies sideswiped world growth and depressed prices. Now, a global recovery is beginning to reverse all of that. Europe is on track to grow 2% this year, with the expansion accelerating in 2000. Surprisingly positive data from Japan bolster the outlook for emerging Asia. And Latin America is set to bounce back from recession.
For the U.S., the news is good and bad. Exports and the manufacturing sector are rebounding, but the global upturn means that red-hot U.S. demand no longer has a safety valve to vent price pressures. Without that buffer, next year's inflation picture could be clouded by rising commodity prices, costlier imports, and production bottlenecks as well as extremely tight labor markets. The danger: All this could heighten the pressure on the Federal Reserve to boost interest rates even further.
Based on the latest trade figures for July, inflation-adjusted exports of goods are up 14% from a year ago. Last year at this time, exports were in their steepest decline since the early 1980s. Moreover, the yearly pace of shipments to Pacific Rim countries, including Japan, has swung sharply, from -20% to 6%. The government does not adjust foreign-country data for inflation, but the price-adjusted pace is most likely greater, since export prices are still declining.
THE IMPROVING OUTLOOK FOR EXPORTS will help slow the deterioration in the U.S. trade deficit, but any turnaround in the balance of payments is still a long way off (charts). That's because imports, fueled by eager and able U.S. buyers, are still growing far faster than exports. In fact, given that the value of imported goods and services is more than 30% greater than that of exports, exports would have grow about a third faster than imports just to stop the trade deficit from widening further--let alone shrink it.
As a result, the U.S. is now in an unsustainable international financial position that will only get worse over the coming year. The broader current-account deficit, which includes not only trade in goods and services but also payouts of other financial obligations, is headed to 4% of gross domestic product by the end of this year. At some point, when the financial markets deem this burden to be too high, changing investor sentiment will hurt the dollar, interest rates, and prices of U.S. financial assets. The dollar's recent weakness, especially vis-a-vis the yen, could be the first evidence of this adjustment.
The problem is that robust U.S. demand continues to suck in foreign goods. Consumer spending is on track to grow 4% in the third quarter. Housing starts rose again in August, by 0.4% to an annual rate of 1.68 million, as housing continues to defy the upturn in mortgage rates. And orders for capital goods are still in an uptrend, led by investment in high-tech equipment. Unless domestic demand slows, import growth won't ease up.
That lesson was made painfully clear in the July trade data. July exports of goods and services increased 0.5% from June, but imports rose 1%, causing the monthly gap to widen to a record $25.2 billion, up from the previous record of $24.6 billion in June. During the past 12 months, inflation-adjusted imports of goods have increased by 22%, up from a 7% yearly pace this time last year. The speedup has been broad, but imports of advanced technology products and autos have led the way.
So far this year, the deficit is running 60% ahead of the gap for the same period last year. One reason it will remain huge is higher oil prices, as global recovery boosts demand. Oil is now close to $25 per barrel, double its price at the end of 1998.
DESPITE THE POOR PROGNOSIS for the overall trade balance, manufacturing output is already picking up in response to the export recovery. Production in the factory sector increased 0.4% in August, on top of July's 0.6% advance. That was the strongest two-month increase in a year and a half, adjusted for the rebound from last year's auto strike. Considering that U.S. manufacturers now export about a quarter of their production, it's easy to see why output growth slowed to only 2% for all of last year from its 7% pace in 1997--and why factory production this year is accelerating.
Moreover, stronger foreign demand is increasing the need for businesses to hold more inventories. Just after the Asian crisis hit, stock levels mushroomed as foreign orders were canceled. In the first quarter of 1998, inventories expanded at an annual rate of $91 billion, the most in any quarter in the postwar era. By this year's second quarter, quarterly inventory growth had shrunk to only $12 billion, the slowest clip in 6 1/2 years, as manufacturers adjusted to the export slowdown. Now, with inventories very lean relative to demand, stock building is set to add significantly to growth instead of subtracting from it.
BUT THERE IS A DOWNSIDE to the export-led manufacturing pickup. Because manufacturing is such a cyclically potent sector, overall growth is unlikely to slow much from its 4% pace of the past year. Some slackening will be necessary soon to avert further interest-rate hikes by the Federal Reserve. But the economy has never slowed when the pace of manufacturing activity is accelerating.
Last year, the export slowdown acted as a safety valve, taking pressure off U.S. production capacity. Rates of utilization fell from more than 82% in early 1998 to less than 80% in early 1999. That bit of slack, plus the worldwide collapse of commodity prices, helped keep pressure off goods prices in the U.S., despite the tightest overall labor markets in a generation. Solid productivity gains played a big part as well.
Now, manufacturing activity is being fueled by both renewed export growth and unrelenting strength in domestic demand from U.S. consumers and businesses (chart). Although utilization rates remain low, they are rising. The rate inched up to 79.8% in August from a recent low of 79.4% in June.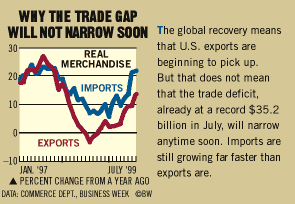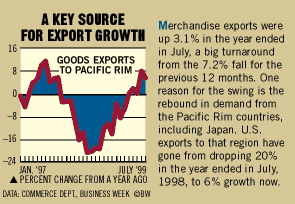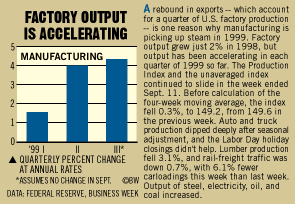 If factory output returns to its 1997 pace, capacity utilization will be back up to more than 82% within the year. At that level, supply bottlenecks that often fuel higher prices will develop. Meanwhile, the outlook for productivity growth will look iffy, as factories will need to beef up their payrolls again, after last year's layoffs.
In essence, the global recovery is slowly but surely restoring the set of conditions in the U.S. that had prevailed just when the Asian crisis knocked everything haywire. Back then, factory capacity use was high, labor markets were tight, inflation pressures were growing, and Fed policy was biased toward tightening. With manufacturing now revving up, the U.S. economy may prove to be a lot tougher for the Fed to tame than the markets now expect.
Before it's here, it's on the Bloomberg Terminal.
LEARN MORE